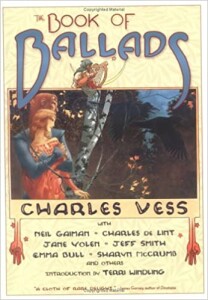 What we have here is a substantially revised edition from the one Vess himself released nearly seven years ago as Ballads. That in turn was based on four issues called The Book Of Ballads And Sagas which were released between 1995 and 1997. J. Olivier Dancoine's Charles Vess — From the 1970's to 1996 (subtitled 'A Tale of Ballads, Sagas, And So Much More') which covers what Vess had done up to 1996, gives October of 1995 as the date the first iteration of this undertaking took place, so I suppose it's fitting that it sees its first hardcover edition almost a decade on! Debbie Skolnik reviewed the first variant for Green Man and she noted in that review, 'How do you add a new dimension to (and perhaps the enthusiasm of a new generation for) the wonderful world of folk ballads and sagas? One solution is to use an art form that is not usually associated with such things. In this case, I speak of the comic book, or as it is more usually known these days, the graphic novel.' But a rather tantalizing clue to why it took so long for this edition to come out is also in that review in the form of an addendum from an editor: 'The Book of Ballads and Sagas was originally intended as a six issue series, but a number of reasons over the years conspired to keep Vess from finishing the series. It's been reported that he'd rather give this project the attention it deserves, rather than turn out a half-baked effort.  No word has been given on when or if the last two issues will ever come out.'
Now even if you know nothing about graphic novels, or illustrated ballads which is a more accurate way to refer to the contents of The Book of Ballads, you will as a reader of fantasy recognize many, if not all of, the writers who collaborated with Charles in creating these works. Emma Bull of War for the Oaks and Finder fame is here, as is the ever popular Jane Yolen who has written more works than I think even she can keep track of. Charles de Lint whose Newford series comprises some of the best writing being done in the fantasy field, is here; Sharyn McCrumb who has a unique take on old tales her Ballad novels; Neil Gaiman who I'm sure you all know quite well, and quite a few others to boot.
As both an illustrator and as a collaborator, Charles Vess has worked with Neil Gaiman on the illustrated Stardust, with whom he shared a World Fantasy Award for the 'Midsummer Night's Dream' issue of the Sandman series. He has also worked with Charles de Lint on children's books such as A Circle of Cats and Seven Wild Sisters, and on illustrated novels such as Medicine Road and the forthcoming 20th Anniversary edition of Moonheart. Vess has won the World Fantasy Award twice — once for the Sandman issue mentioned previously, and once again with a Gaiman work, the illustrated Stardust. The Stardust series won him the comic-book industry's Eisner Award. In addition to Moonheart.
(Right now, I recommend a side-trip over to his Web site for a look at his artwork. Just go here and spend a while looking at some of what he's done. Please note he's selling a Stardust Boxed Print Set similar to the portfolio that's sitting on the desk here right now. May I suggest it would be a perfect gift for that special one in your life who's into fantasy fiction?)
Now given that these are true collaborations, I asked some of the writers involved in this work how it was to work with him. Jane Yolen noted that 'Charles is brilliant but so engrossed with other projects that it took many years from the time I sent him the selchie story until he finally got around to illustrating it. But it was worth the wait!' She went on to note, 'His work is not merely decorative (though he has decorative elements in it.) He sees to the heart of the characters and he absolutely 'gets' the magical elements. Also, 'Great Selchie' is a very sexy story, and he sure gets that, too.'
Emma Bull was equally appreciative of working with him: 'Working with Charles was great — always is. I'd originally thought of the story as set in the late eighteenth century, but Charles found killer reference material for 1890s foxhunting, and I realized that the characters in the story would be just the same only more so if moved up a bit in time. (And they look so stylish!)' She added an interesting note on what the characters ended up looking like: 'I tried to write the characters' dialog in such a way that their personalities and tone of voice came through, but I didn't do much description of what the characters looked like beyond their ages. When Charles sent me the artwork for the story, there they were — those were the faces that belonged with those voices. Charles created the perfect cast for a comedy of manners with a dash of supernatural intervention. Even the horses have great facial expressions!'
Charles de Lint noted 'Not much to say, Cat. Charles asked me to do the first one , 'Sovay', in hopes of getting a series out of it (which he obviously did) though this first one was for an anthology comic, I wrote a script for him and sent it off, he turned it into magic. 'Twa Corbies' was only a little different. When he started doing the series, he asked if I'd do another. I didn't mind, but having already done a straight retelling, I had to do something different. I later did a prose version to include it in Moonlight and Vines — if only I'd known that Tor would have used the illustrated version. Or that there was a possibility of it. . . .'
The Book of Ballads is, as you might guess, illustrated tales based on ballads. If you're at all familiar with The Child Ballads, you'll recognize much of what's here. After an excellent introduction by Terri Windling covering Frances James Child, the ballads he collected, and what effect these ballads would have on future generations of singers, writers, and other creative folk, we get the ballads themselves.
In addition to those tales, we have Neil Gaiman's retelling of 'The False Knight on the Road'; bestselling mystery author Sharyn McCrumb offering up her idea of 'Thomas the Rhymer'; Charles de Lint's contemporary take on 'Twa Corbies'; comic artist Jeff Smith's 'The Galtee Farmer'; Lee Smith's 'The Three Lovers' (based on 'Lord Thomas and Fair Ellender'); Midori Snyder's take on Babara Allen; Delia Sherman's 'The Daemon Lover'; Charles de Lint's 'Savoy'; and one by Vess himself, 'Allison Gross'. Now if you think that I'm foolish enough to say that I have favorites here, forget the idea altogether as everything here is excellent. Oh, 'Twa Corbies' is part of de Lint's Newford narrative, so it was interesting to see an illustrated envisioning of what looks like the Old Market of that city and, of course, of the Crow Girls, but equally interesting was Vess' take on 'Allison Gross' which has one of the nastiest depictions of her ('Oh, Allison Gross, that lives in yon tower / The ugliest witch in the north country'), and let's not forget 'The Black Fox', a ballad Emma thought was traditional, but was really, as she notes in 'An Apologetic Introduction', written by Graham Pratt, who based it on a fragmentary Yorkshire folktale.
Everything in The Book of Ballads is well-worth experiencing over and over again, including the fine discography of related music by Ken Roseman, a music writer with a deep interest in Anglo-Celtic tradition and not so traditional music. This discography is a greatly expanded and (rather obviously) updated version of the notes he did for Ballads.
Let me also offer my deepest thanks to Tor Books for giving The Book of Ballads the hardcover edition it so richly deserves. The only slight miscue from my perspective is that I'd have included the original introduction by Paul Chadwick as well, as he had more to say about the art itself than did Windling. This is a minor quibble at worst, as I'm quite pleased to have this in my library. Even more pleased as it's autographed by Vess!
Now you must excuse me as I'm off to the Pub to interview Charles about his art, his taste in music and literature, and maybe even what he thinks is a proper ale.
(Tor, 2004)