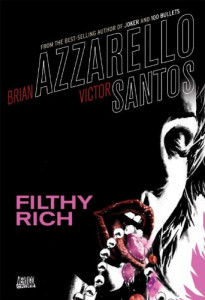 Pity the protagonist of noir fiction. Because he dwells in that world of dangerous dames, brawny gangsters and flashy period cars — not to mention impressive and stylish men's hats — he does not have the opportunity to read noir, to learn its basic tenets and thus avoid falling into its most commonplace traps.
And ranking high among those traps would be "don't sleep with the boss' daughter," "don't sleep with the boss' daughter when you've been assigned to bodyguard her," and especially, "don't continue to sleep with the boss' daughter when she tells you about her plan for the two of you run away together after you commit a heinous crime on her behalf." That last one, in particular, is important.
That's also the lesson that Richard Junkin — former football player, current lousy car salesman — completely fails to learn in Filthy Rich. Junkin is, as his nickname suggests, junk — a washed-up former star with a dark past and a not-too-bright future. When his boss at the car dealership pulls him off sales duty and instead tasks him with keeping a too-wild daughter out of trouble and the papers, it seems like a lucky break. Suckers like Junkin, though, don't get lucky breaks.
While Azzarello adds a more modern sensibility to the classic noir material — an attempted rape is a pivotal point in the story, and there's a whole lot of fairly graphic sex — there's much here that's familiar.
With that familiarity comes disappointment. Considering the way in which the Vertigo imprint helped revolutionize American comics, one would hope that the lead title for Vertigo Crime would offer some of that same freshness. Instead, it's just solid work. Victor Santos' strong artwork helps — the tone of period film is evoked perfectly, with square-jawed men and seductively rounded women — but the ultimate effect is a strong take on a timeworn formula, rather than something new.
(Vertigo Crime, 2009)