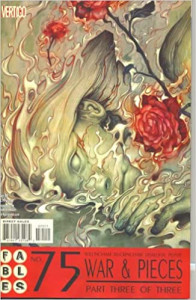 Break out the champagne! Fables has reached issue number 75!
I don't recall us ever reviewing a single issue of an ongoing series, nor do our master review indexes — as maintained by our Library staff — show that we have done so. So why the seventy-fifth issue of Fables? What makes it worth reviewing? Oh, damn near everything in it is worth talking about, particularly given that it ends a story line that has run for the entire seventy-fifty issues of this groundbreaking series.
Normally I detest the blurbs provided by companies like Vertigo but they got it right when they said:
Have you ever read those new-comics blurbs that promise things like, 'After this issue nothing will ever be the same again,' but you know in a few months none of those so-called big events will have mattered? Well, this isn't one of those times. This time when we say Fables will never be the same again after this issue, that's a promise you can take to the bank. So, without further ado: After this issue of Fables, nothing will ever be the same again. Oh, and someone dies.
Keep in mind that it rare for me to read any series in single issue format, but I've read every issue of Fables and Jack of Fables as they came out. Some months, I could hardly wait until the next issue came out to find out what happened, and each issue did develop the plot lines rather nicely. That's how good Fables is as a series. (Jack of Fables has its moments, but it also has more than its fair share of just plain awful stories.) Neither Hellboy nor Hellblazer is this consistently good.)
I suppose you'd like to know at this point what Fables is about. Well, I could explain it myself but April Gutierrez, our Book Editor, did it very well in reviewing the first two collected volumes, Fables — Legends in Exile and Fables — Animal Farm, so let's let her tell the tale.
Fables Seventy-Five brings a complex and tangled story that develops into a bitter war between the escaped Fables and the forces of The Adversary. Obviously I can't tell you how Fables Seventy-Five wraps up the story, but I can tell you the Fables win at some great cost to themselves and an ever greater cost to The Adversary and his forces. I can also say that Willingham does as neat a job here as Mike Mignola did in the story collected in Hellboy, Volume 8: Darkness Calls, which I called 'one of the best, if not simply the best, graphic novels I've read this year.' Well, Fables Seventy-Five is without doubt the finest single issue of any series I've ever read on some thirty years of reading comics.
Bill Willingham's story is perfect, especially his superb characterization of even the most minor of the beings here. Mark Buckingham and Steve Leialoha's interior art is simply brilliant with some very cool double pages that make me wish for an Absolute Fables. And even James Jean's cover art is to be savored as being perfect for this issue. If you haven't read Fables, do go read it all now in the trade editions that Vertigo has published. (I bought all of the trade editions so I can re-read it sans the clutter of advertisements and other junk in the single issues.) Thank you Vertigo for this series!
Oh, there are some surprise goodies after the story … No, don't expect me to tell you what they are!
(Vertigo, 2008)