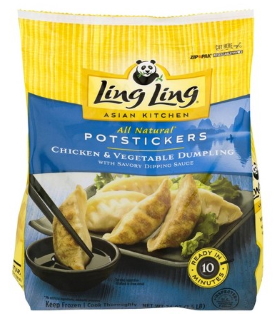 This warming soup has a clear stock that will knock your socks off with flavors. Start with something homemade and tasty, like a rich chicken or ham stock. The second lot of vegetables goes in timed to retain flavor and crunch. If you stir much, the avocado will disintegrate a bit, clouding the stock with vivid green shreds. Up the carb content by serving with chunks of crusty bread. Diners are expected to cut the pot stickers up in the soup with their spoons after they have been served.
Winter soup with pot stickers and shrimp
per person:
8 oz rich stock
3 cloves garlic, peeled, diced, and smashed
2 baby carrots, cut in coins
1" fresh gingerroot, grated
2" of sweet potato, peeled and diced
2" baking potato, peeled and diced
and

5 pot stickers
and
6-10 small raw shrimp, peeled and deveined
¼ cup onion, diced
½ serrano pepper, seeded and minced
½ ripe avocado, diced
1 large radish, diced
2 stalks celery, diced
2 to 3 Tablespoons olive oil per person, yes, that much olive oil
and
salt to taste
upon serving, a squeeze of lime juice
Thaw the shrimp and pot stickers and hold them aside.
Heat the stock.
On medium heat, add immediately the carrots, sweet and baking potato, garlic, ginger, and serrano pepper.
Heat to boiling.
When carrots are soft, add the pot stickers. Cover and boil 2 minutes.
Add shrimp, onion, celery, avocado, radish, and olive oil. Cover and boil 3 to 4 more minutes or until the shrimp are pink.
Add salt to taste. Serve. Add a squeeze of lime juice in the bowl, to taste.
Frills:
Just before you take it off the stove, put in a handful of well-rinsed, finely-chopped cilantro leaves and stems. The stems are crunchy, with a burst of hopeful Spring flavor.
For a fattier, less delicate soup, substitute chunks of polish sausage for shrimp. Don't use both. That's a waste of shrimp.
For extra fancy, add ¼ cup diced scallops per person, including the liquid accompanying the scallops.
To feel virtuous, add five or six green beans, cut in 1-inch pieces.
If you want to be totally gross, add a handful of slivered baby spinach leaves just 30 seconds before you take it off the stove, and cover again, to wilt them. I despise cooked spinach, but your mileage may vary. Same goes for zucchini. If I had a pig, I would serve it zucchini and spinach.
_____________________________________________________
Just writing this recipe down, I feel very artistic. Not my usual rowdy beach-read self at all. If you want to see me writing with my pinky out, try Trash Sex Magic, an earthy work of magical realism about trailer trash sex magicians, set in my home town along the banks of the Fox River in northern Illinois.
No, I suppose it doesn't sound more artistic than, oh, Coed Demon Sluts, but it is.