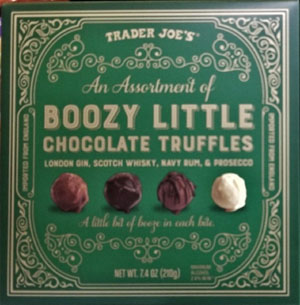 Trader Joe's Assortment of Boozy Little Chocolate Truffles seems to be a seasonal item, which is possibly why they're not listed on the Trader Joe's website, which in turn is why I'm not able to provide any background information. Trader Joe's, of course, is the national grocery chain that's hip, fun, and offers a lot of things you can't find elsewhere, with an emphasis on natural ingredients, all offered under the "Trader Joe's" brand.
The box does state that the truffles are made in England and claims "A little bit of booze in each bite." The booze in question is either London gin, Scotch whisky, Navy rum, or Prosecco. Since the truffles are bite-size, a helping can add up to more than "a little bit of booze."
However, let's cut to the chase: how do they taste?
Since I'm a long-time Scotch whisky fan, that one seems as good a place as any to start. The shell is dark chocolate, and fairly brittle — almost crunchy. The burst of alcohol hits almost immediately, but to be quite honest, you couldn't prove it's Scotch by me: the truffle itself is sweet, and the chocolate flavor of shell plus truffle overwhelms any flavor of Scotch. Not that I'm going to stop eating them on that account, mind you.
I've also been known to indulge in dark Jamaican rum on occasion, so next in line is the Navy rum. This one's in a milk chocolate shell laced with darker chocolate, chewier than the dark chocolate covering the Scotch, and there is actually a hint of rum flavor under the sweetness and chocolate. The whole thing is chewy and actually kind of fun to eat.
The London gin truffle comes in a milk chocolate shell, minus the dark chocolate dribbles, and is just as chewy as the Navy rum truffle. Gin being what it is, there is a definite hint of juniper berries under the sweet chocolate. Frankly, although I've never been overly fond of gin, I could see getting addicted to this one.
Finally, the Prosecco, in a white chocolate shell, which is slightly more firm than the milk chocolate — but only slightly. Once again, the distinctive flavor from the Prosecco is lost in the sweetness and chocolate flavor — in fact, this one is pretty sweet, so that the overriding impression is of white chocolate candy with a bit of a bite.
And that's it. The truffles come in a box of 36, nine of each flavor, and would make a nice stocking stuffer for someone who has a passion for chocolate with a little bit of a kick.