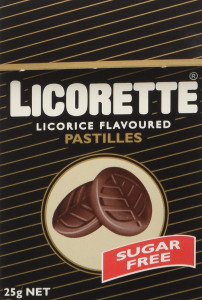 I'm an unabashed fan of black licorice. I've tasted (and reviewed) lots of different styles, from salty to sweet, and even covered in chocolate. (Don't knock 'em 'til you've tried 'em, y'all.) But licorice and berries? No, not berry flavored licorice. A mashup of black licorice and berry flavors. For those days when you can't seem to make up your mind on what kind of taste you're craving – which for me is just about every single day of my life – Duett has an equal amount of sweet and sweetly savory. And I'm a fan.
At a size that'll just about cover your thumbnail, each one of these little guys is just … adorable. Yeah. Sure, Jelly Babies probably take the cake when it comes to cute candies, but Dent's sugar-free lozenges are wee enough for me to take a piece out and say 'awwww'. That's right; they're sugar-fee. In case you were just like me and wondered what 'Sukkerfri' meant. Yep, it's phonetically similar to the English meaning, so yay for phonics!
These rubbery candies are fine to keep in your mouth if you're looking to soothe your throat or have a dry mouth, but are just flexible enough to chew. Be prepared to get bits stuck in and around your teeth though, as these little tidbits are chewy and small, which can end up leaving remnants around your molars. They melt quickly though, and can be easily dislodged with toothpick, or a sip of whatever you're drinking.
As for the flavor profiles? The black licorice has a smooth umami flavor that melts in your mouth as you chew (or lingers on your tongue if you let it melt for a bit.) It's a very herbal licorice, which harks back to the candy's plant origins. And speaking of plant-like, the berry pieces don't have the same overt flavor profile, but there's a wild berry taste that hints at tropical fruits like mango and papaya. The berry pieces tend to quickly lose their flavor in relation to the licorice ones though. That makes popping one of each flavor into your mouth a bit like chewing a licorice allsort made with strawberry puree instead of coconut. Nice, unusual, and with a lingering savory flavor that coats the tongue.
Dent has other flavors as well, including eucalyptus, a trio of fruit flavors, and a box filled with salty or sweet licorice flavors. But to be able to put berries and licorice into my pockets without having everything turn to mush? Well, I think I've found a new go-to.