Smoke actually in your drink is not for everybody. First I ever heard of this notion, it was some years ago in a review in a Chicago periodical, where they go on about ingredient sourcing and hand-cut ice cubes and that. I was flabbergasted but not beyond expectation to read of a drink called "Brandy and Cigars" where the bartender sets fire to some tobacco, then traps the smoke in a snifter and serves your brandy with the smoky snifter on top. $36 at a metropolitan rooftop bar near you.
Still, when I saw a similar thing available in a not-so-humble Bonefish Grill in Orlando, I tried it. Bourbon was the spirit. For $12, I took the risk. And hey, I liked it!
So the idea of a smoky whiskey didn't exactly boggle my mind.
Previously I had tasted Laphroaig and Talisker and can testify that yes, there's the peat, the smoke, and the seaweed, and I didn't get it. Mind, you, it comes to whiskey (or whisky, which spelling is used for Irish whisky) I am pretty much of an ignoramus. I know that Jack Daniels and its direct market competitor Jim Beam taste like battery acid to me, and to me blended Canadian tastes generic. I know that Wild Turkey kicks like a mule. I'm skeptical of blended whiskeys. I turn up my nose at whiskeys flavored with butterscotch, vanilla, maple, peanut butter, cinnamon red hot candy, fruit, kombucha, motorman's glove, or chile peppers.
Nicholas McClelland at The Spruce Eats, which recipe site I find myself turning to surprisingly often, insists that "Not all flavored whiskeys are lousy." Long before I read his really frightening list of The 8 Best Flavored Whiskeys in 2021
I found myself falling in love with a flavored whiskey that is not only blended, it is flavored with a chichi substance that normally I can't put in my mouth in its native form, let alone as a food adulterant.
So, Johnny Smoking Gun, a blended whiskey produced by Detroit's Two James Distillery. Johnny Smoking Gun is not flavored but infused with, infused is way more chichi, hold onto your hat, two varieties of Lapsang Souchong tea. (Don't ask me which two.) Since bartenders have been doing this to cocktails for a while, Two Brothers decided to actually put that shit right in the whiskey.
And I love it.
Someone once made a Lapsang Souchong flavored ice cream, and I've since forgiven him for getting me to put a spoonful in my mouth. I can only handle Talisker or Laphroaig by the thimbleful every ten years or so. But this stuff makes me happyhappy. Anybody I Zooms with sees my bottle Johnny Smoking Gun on the file cabinet in the background, as is only proper in an author's workspace.
This whiskey is sweeter than most. I suspect it's working toward the more popular cocktails (Smoky Old Bastard, Smoky Sour, Lapsang Souchong Old Fashioned, Cigarette, Tawky Tawny, and other oddities) which all seem to contain sweeteners: honey, jam, port wine, maple syrup, simple syrup, even cinnamon bark syrup.
Apparently there's something Japanese about this whiskey, too, because the bottle features a faceted front label illustrated with a shooting desperado and a rounded back label illustrated with udon in a bowl, with chopsticks. The front label is further ornamented with kanji, and the words "Hachi Nana" and "Badlands Whiskey." The label recommends you drink it with umami-heavy Asian fare. Make of that what you will.
I met Johnny Smoking Gun in a flight of whiskeys at a North Shore burger joint, defunct since Covid sadly, called Whiskey Thief. Finding it by the bottle was another issue. Johnny Smoking Gun is hard whiskey to get hold of in Chicago. Their regional distributor was spotty to start with – I couldn't find this whiskey anywhere in Michigan outside the Detroit area, though the distributor claimed they shipped it there – and in Chicago, only one Binny's carried it. Now the distributor is outright defunct, and I'm reduced to driving to Grand Rapids to get my Lapsang-Souchong-infused fix.
I can't give you the whole "jackrabbit nose, front rush of saddle leather, shellac finish, corrosive cranberry afterburn" spiel, and I don't advocate adding macerated rosemary simple syrup or scorched cat-litter smoke to give it that $36-a-glass cocktail fillip.
Where you're gonna get yours, I have no clue. Best bet: some outlandishly chic whiskey bar, or one of Two James's tasting rooms in Michigan.
Just put some in a glass and add maybe half an ice cube.
__________________
I've been known to immoderately, but not of this whiskey. It's too chatty.
My Coed Demon Sluts never say when. With considerable effort they can get drunk, and they sober up at will and never suffer mornings after. Although in Coed Demon Sluts: Pog I report the ladies having a sex hangover after Lollapaloosa weekend, which implies immoderation on another level. Their fabulous demon bodies are designed to wear hard. They require a truly appalling number of calories to keep thin. This notion helped me write all five books really fast. Every ten to twenty pages, I had to write a fressfest. I think about food  for around four hours a day, off and on, so that was like getting paid to breathe.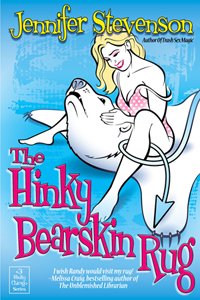 Writing about all that food made me hungry, but it wasn't a patch on my suffering when I wrote the Hinky Chicago adventures of fraud cop Jewel Heiss, her hot ex-con-artist partner, and her incubus roommate. I felt my readers wanted to know what happened every single night of every story. It got silly. The Hinky Bearskin Rug covered more days and nights than the first two volumes. When blocking out that novel, I found myself with nine sex scenes on my hands. This is ridiculous, girl. Dial that back. Don't know how many I ended up with. Count 'em yourself.