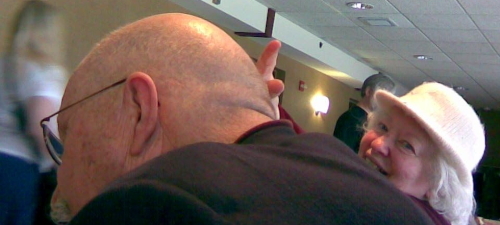 I invented this recipe one time when Gene & Rosemary Wolfe came over for a barbecue and Rosemary requested chicken.
3 lbs. chicken wings, with uneatable tips cut off
1/2 c ketchup
1/4 c white wine
1/4 c soy sauce
2 T sugar
1 t salt
1 t garlic powder
1/2 t ginger
Mix all that up. Refrigerate one hour or up to overnight. Stir.
Lay wings out in cookie trays or in a casserole dish and baste with the sauce.  Reserve extra sauce.
Bake in oven at 375o for 30 minutes, or on outdoor grill, covered, until tender.  Baste every now and then.
Nuke the extra sauce for 3 minutes until hot and the chicken juices have thoroughly cooked.
Put the chicken and the extra sauce in the crock pot to keep them warm.  Serve with corn bread.
_____________________________________
I'm indebted to Gene for his praise of my first novel, Trash Sex Magic:
"It was a proverb of the 16th Century: On Hallowmass Eve troll notte thy broomstick bye ye caravan park, for thou wottist notte who maye mount thereon. I had paid it little heed since learning it years ago, and planned to read this grand book one chapter at a time. I'd scarcely begun the second when I fell under the author's spell."
What a mensch. I don't blab about my friendships with the cool people, as a rule, but I have this to say about me and Gene.