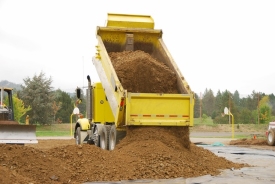 *tump: [white trash] 1: v open a bunch of cans and boxes and tump 'em together 2: adj quick and dirty, quantities and proportions flexible 3: warning, don't tell your doctor you're eating this
I got this recipe from Greg Ketter, owner of Dreamhaven Books in Minneapolis. I forget the occasion—I'm pretty sure we were at his place, back at the dawnatime when he had an apartment in the city.
I do remember he had a lot of people to feed that day and no time to cook. (Does this sound like you?)
This is a "tump" recipe, meaning, you assemble the ingredients and tump 'em in the pot. Boom. It is also definitely quick and dirty. Not for when you're on a diet. High fat, high-carb, and soooo yummy. Be careful of serving this to those with crab allergies!
Quick 'n' Dirty Crab 'n' Corn Soup
1/4 lb. crabmeat or fake crabmeat (shredded) per person
1/2 can cream corn per person
1/2 can corn niblets per person
4 oz. (1/2 pint) heavy cream or half-and-half per person
1 cup milk per person
1 Tablespoon or more butter per person
Cayenne pepper, salt, black pepper, and sugar to taste
Directions:
Tump everything in a big soup pot. Heat. Eat.
I know, scary, right?
__________________________________
When Daisy Ditorelli leaves her grandfather's vintage Porsche Targa parked at the lakefront with the moon-roof open, she little knows that she is about to fake an engagement to Bobbyjay, a scion of her grandfather's worst enemy, and that shortly after that she and Bobbyjay will climb into that Targa when it is full to the dashboard with icy lake water and live smelt. Daisy cooks for her grandfather and his large array of male relatives—usually Italian food from scratch—but she'll stoop this low sometimes because a girl needs a break.