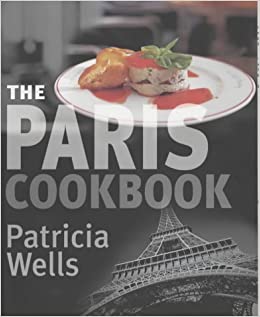 Stacy M. Troubh pended thisPatricia Wells'
Filled with over 150 recipes, Patricia Wells'  The Paris Cookbook has something for everyone, from the beginning cook to the most skilled chef. Whether you want to spend a day creating a classic French feast or simply to add a Parisian accent to an upcoming meal, restaurant critic and author Patricia Wells makes it easy to add French flare to your cooking. Loaded with both classic and contemporary dishes, The Paris Cookbook deserves a spot on any foodie's kitchen shelf. Clearly written with a wide range of courses and choices, what sets Wells latest book apart is its ability to transport the reader right to the streets of Paris.
As I read the pages, peppered with black-and-white slice-of-life photos, I found myself longing to explore each and every place she visited. By the time I finished the book, I nearly felt as though I had. Through her descriptions of open markets, quaint sidewalk cafes, and everyday access to some of the finest breads, cheeses and produce in the world, Wells captures the essence of Parisian life. A Paris Cookbook is more than a collection of recipes.
Almost every recipe contains tidbits of added information — everything from quotes from the chef who created it, to the history of the star ingredient, to Wells' own memories of the first time she sampled the dish. Complete with wine recommendations and even the names and addresses of the restaurants where the recipes originated, the book could easily double as a restaurant guide. Most interesting, however, are invaluable digressions that expand upon American unknowns such as fleur de sel and truffles and little sidebars about what the author learned first-hand standing alongside the crème de la crème of French chefs.
If Wells stresses one thing about food, it is the importance of top ingredients. Because Wells' collection represents a true sampling of French fare, her recipes often call for regional ingredients that may not be available at local American supermarkets. Attempting to prepare Normountier Potatoes with Fleur de Sel without noirmoutier potatoes, "famed for their organic, earthy flavor, with a hint of the ocean and the salty soil in which they grow" would likely not produce the taste Wells intended. Yet, the fact that I could not reproduce this dish in my apartment kitchen with supermarket russets and table salt was not a great source of frustration for me, for I quickly realized that focussing on trying to duplicate these recipes would be to miss the greatest gift of this book.
I did admittedly try several of her recipes, and as expected, they were all delicious. Her Mesclun Salad with Roquefort Vinaigrette had the perfect balance of flavors and JR's Crème Brulee had, as promised, an elegant, rich flavor and texture. While the Chicken Fricassee with Two Vinegars would undoubtedly have been better had I used a pampered Bresse chicken, the sweet aroma of the dish nevertheless allowed my husband and I to close our eyes, inhale, and imagine ourselves at the finest of French restaurants. Thank you, Ms. Wells.
(HarperCollins, 2001)