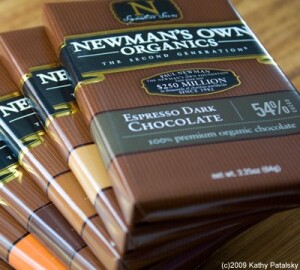 I find myself sitting and surveying some empty chocolate wrappers.  Three of them, in fact; the product of Newman's Own Organics.  I'm not sure if these are available in my home country of Australia generally, as a view of their Web site seems to only show stock lists in the US and Canada.  I've been well aware of Newman's range of pasta sauces and the like for many years though, along with their reputation for quality.  Of course, it is Paul Newman and family who were the instigators of the various food lines, though now the products are credited to "the second generation".
Expectations are therefore naturally fairly high when it comes to the taste test, but that is enhanced further by reading the ingredient lists.  As promised, it's organic, but unlike some companies who only use a few such ingredients, everything here falls into that category – organic cocoa butter, soy lecithin, vanilla and so on.  What's more, it's Rainforest Alliance certified as well, so social and environmental aspects are thankfully also considered.
As an aside, I thought "evaporated cane juice" was just a clever way of avoiding saying "sugar" but apparently it is different, with less processing and more nutrients – so there's more evidence of the thought gone into the whole thing.
A company having its heart in the right place is good and commendable but would count for little if it fell at the final hurdle, the actual taste.  So after noting that the 6 squares in each packet broke off neatly and easily, the moment of truth revealed a flavour that was not too sweet and not too strong, offering a subtle kind of strength that lingered most pleasantly on the tastebuds.  Well, the Orange Dark and Espresso Dark, both with 54% cocoa, offered that kind of strength – the Super Dark at 70% lived up to its name but still not to the detriment of the taste or one's enjoyment of it.  Perhaps one wouldn't want quite so much of it in one sitting though, as the desired effect – the chocolate buzz, if you will – is achieved somewhat more quickly.
Also, I detected just a slight bitterness in the aftertaste of the Super Dark, though nowhere near as much as might be expected.  The Orange and Espresso had no such issue, which may or may not be related to the quality and nature of the ingredients used.  The individual tastes in each block work together well, with the flavours being neither too strong nor overwhelming, individually or collectively.
The terms silky and smooth come to mind for the texture, and it must be said these are definitely chocolates to savour.   Usually, I like to just gobble such things down and enjoy the flavour as a whole but with these, I found myself breaking off smaller pieces and letting them melt in my mouth so I could prolong the experience.  Now there's a recommendation for you.
Blocks are 64g / 2.25oz in size and contain 320 calories and total fat of 22g, so I guess this is where a nutritionist would say "enjoy in moderation".   If I was a drinker, maybe I could recommend an appropriate wine to go with them but instead let's just call these ideal special occasion or "treat" chocolates, made by people who actually do seem to care about what they do and how they do it.