Today the weather is clammy and the sun is dim: good time to make lasagna. That'll do for my cooking obligations for the next two and a half days, although how two people manage to eat a whole lasagna in less than three days I cannot in good conscience describe on a family blog. Bit messy.
While cooking this, I drink red wine. Lately I've been sampling the 19 Crimes blended reds from Australia, because they were on sale at my local supermarket and have finally come out in a price range I can afford. I've become quite fond of specific ones and will pay full price, all of $14 or less. (I also save the corks, some of which are printed with definitions of that particular wine's Crime, and are collectable. Anyone want #19? I have one. Will part with it to a collector who is more avid than I.) The Uprising, a red blend aged 30 days in rum barrels, is my all-around favorite so far. Their new special edition Snoop Cali Red (with photo of Snoop Dogg on the label, be still my heart!) is a fine hearty red blend, and a bit on the sweet side, if you like that. Another good all-around red blend is The Banished. Good lord, I do run on with a wineglass in my hand.
Why 19 Crimes? I hear you ask with increasing impatience. These wines are named after the 19 crimes for which one could be transported to the Australian penal colony, amongst which were "Impersonating an Egyptian" (#5) and "Watermen carrying too many passengers on the Thames, if any drowned" (#17). Their website is a hoot.
Anyway, this recipe is my first shot at no-boil lasagna, which I have to say is a dandy speeder-upper. There is no excuse, however, for skimping on the sauce time. That low I have not fallen. So we start with sauce, then fool around with the rest.
Sauce:
5 links sweet Italian sausage, skinned
16 oz chopped tomatoes
8 oz can tomato sauce
6 oz can tomato paste
12 cloves garlic, peeled and smashed
1 large sweet onion, minced
1/2 bottle red wine (325 ml)
1/4 cup olive oil
3 Tablespoons sugar
2 Tablespoons whole anise seed
2 Tablespoons dried basil
1 Tablespoon ground allspice
6 grinds fresh ground black pepper
optional 1 teaspoon ground nutmeg
optional 1 teaspoon dried oregano
Put the Italian sausage (sans casing), onion, garlic, olive oil, and 1/4 cup of the wine into a heavy-bottomed saucepan and sauté, stirring occasionally to break up the sausage into bits, which will take until the sausage is pretty well cooked and the onion translucent.
While that's going on, put the last 7 ingredients – the sugar and spices – into a hand mortar and pound on them them with a pestle until they are fragrant. Add this to the sausage mix.
At the same time, add the red wine, tomato paste, tomato sauce, and tomatoes.
Stir all that until thoroughly mixed. Cover. Cook on low heat, stirring occasionally to prevent burning or sticking on the bottom, for 2 to 3 hours or as long as you have the patience.
Meanwhile, make the next set of ingredients.
Cheese filling:
30 oz full-fat ricotta cheese
1-1/2 cup fresh-grated parmesan cheese, divided
2 beaten eggs, room temperature
2 Tablespoons sugar
3 to 6 grinds black pepper
Mix all but 1/2 cup of the parmesan cheese, cover, and let it stand at room temperature.
Preheat oven to 375 degrees fahrenheit. Grease a 9×19 baking pan or casserole dish with olive oil.
You will also want to have ready:
1 box no-boil lasagna noodles
8 to 12 oz fresh mozzarella cheese, sliced
… if the mozz is fresh and white, in a log, cut the slices about 1/4 inch thick
… if you prefer, or can't get fresh mozz, get 8 to 12 oz of the deli slices, which are generally thinner
Assembly:
In a total of four layers, begin by spreading 1 cup of the sauce on the bottom of your greased casserole.
Top with the no-boil lasagna noodles. You don't need to cover the bottom of the dish, for the noodles will expand greatly in all directions as they absorb moisture during baking. I find that four noodles is sufficient per layer, spaced out. If you have noodles left over, break them up in bits and tuck them in around the outside edges, making sure to cover them with sauce and/or cheese filling.
Top that with 3 to 4 slices of mozzarella (if the fresh white kind). The fresh mozz melts a lot. The cured, thin slices from your deli, not so much, so use more if cured.
Top the mozz with the ricotta cheese mixture, spooned on and then spread out.
Continue with three more layers. If you worry that your sauce will run out, thin the remainder with red wine and another 1/4 cup of olive oil. Really, it'll be fine.
The top of the fourth layer should be ricotta cheese.
Make sure each no-boil lasagna noodle has sauce or cheese filling touching it; you want moisture on both sides so that the noodle will cook properly. (This is why stretching your sauce with extra wine is not the end of the world. Plus, remember those broken bits of extra noodle that you tucked in around the sides? Well, then.)
Top layer: sprinkle the last 1/2 cup of grated parmesan over the top.
Bake, covered with foil, 25 minutes. Remove cover and bake 5 to 10 minutes longer.
Allow the lasagna to sit for 10 more minutes, to settle.
Serve with the remaining red wine, if you haven't drunk it up in the meantime. You may just have to open another bottle.
_____________________________________________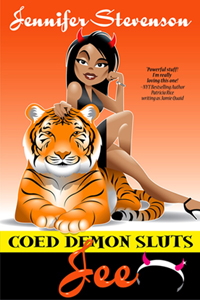 In Coed Demon Sluts: Jee, the ladies have rescued their cabana boy from a fate worse than death, viz., living in his mother's basement, and to celebrate have decided to eat themselves into a stupor. (To be fair, they do this at least once a day. And because they're demon sluts, the more they eat, the thinner they get.) Here is the orgy of Italian food selected for this occasion. Because being a succubus means never having to wait for food, Pog whips up a snack first. After all, by the time it's down, they'll be hungry again.
"I had some frozen bacon-wrapped scallops from Costco in the freezer, and some crab cakes, and a couple of bags of la-di-da Korean dumplings, and a sheet cake, and a giant box of family-size chicken pot pies. I fired up the oven.
While it was preheating, I called Dave's Italian Kitchen and offered the usual extra hundred dollars if they'd deliver all the way down to Ravenswood Manor, and placed our regular order: four sixteen-inch thin-crust pizzas, one garlic and anchovy, one primavera, one Hawaiian, one with bacon, ham, and two kinds of sausage; one order each of fettuccini gorgonzola, four-cheese ravioli, angel hair pasta aglio e olio, mussels marinara, rotini diavolo with double shrimp and double calamari, romano-cream risotto with garlic and chicken, steamed spinach with garlic, spinach ricotta cheese pie, lemon scallops, chicken vesuvio, chicken cacciatore, a tray of meatballs, twelve orders of garlic bread, a tray of cannoli, and a tray of tiramisu."
Find all the Sluts here.