Francine Genovaldi worked with me in the typing pool. We had a tradition in that pool: for every birthday, we all brought in goodies. There were twelve word processor operators, and often the birthdays came three or four to a month. I might come to work to find five full-size double-layer cakes, two batches of cookies, cheese, salami, crackers, corn chips, potato chips, a jar of olives, an oh yeah a lonely little plate of carrot and celery sticks. Our word-processing center was very popular on those days, even with the white-collar boys and girls, who were, get this, under explicit orders from management not to fraternize with the help. (I am not making that up.)
This is Francine's ultra-rich, moist, dark chocolate sour cream cake.
Step 1
1/4 lb. (two sticks) butter
2 squares (two ounces) melted bitter chocolate
1 cup sugar
3 T water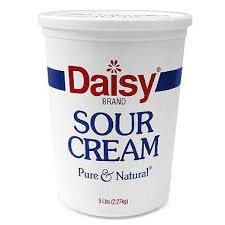 Step 2
1 cup sour cream
2 eggs
Step 3
1 heaping cup of flour, sifted
1 tsp baking powder
1 tsp baking soda
1 pinch salt
Step 4
1 tsp vanilla
Mix step 1 ingredients to smooth texture in double boiler.
Add steps 2, 3 and 4. Beat the hell out of them. (Low speed 1 minute, high speed 3 minutes)
Bake at 350o for 30 minutes. Cool a few minutes. Remove from pans, cool completely. Frost with dark chocolate fudge frosting.
Jennifer's Quick 'n Dirty Sour Cream Chocolate Frosting
12 oz dark chocolate chips (I use Ghirardelli 60%)
16 oz good-quality sour cream, like Daisy brand
In a bowl, melt the chocolate chips in the microwave in 30-second bursts, stirring frequently.
Remove chocolate from microwave and temper it quickly to prevent too much thickening by stirring in a few tablespoons of sour cream.
Add the rest of the sour cream, stir thoroughly, chill if it's too runny, then frost your cake. You can mix this up while your cake is cooling.
With Francine's benediction: "Eat, eat, enjoy, and get fat!"
______________________________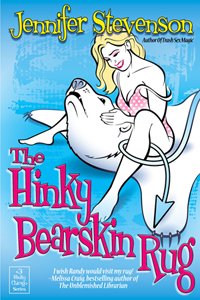 I spent my formative years working in the pink collar ghetto, where I met Francine and her immortal sour cream chocolate cake. This experience radicalized my views on class and gender in the workplace. I didn't get a chance to write about it until The Hinky Bearskin Rug, third in the Hinky Chicago series.
My heroine a fraud cop with the city, is charged with protecting Chicago from magic. She goes undercover as an office temp in a real estate developer's office. There she finds widespread sexual harassment escalating to the hinky (magical) level. She's also investigating charges of hinky stuff at an adult entertainment company. To her amazement she discovers that the "girls" in the adult biz are treated rather better than the "girls" in the office.
I had a blast writing this. In the research phase, my phone conversations with both male and female adult sex workers and film stars really opened my eyes. Read The Hinky Bearskin Rug with someone you love, because yeah, there's lots of sex.