A few years ago I was looking for something to perk up my morning porridge when I came across Curried Cashew Trail Mix in the bulk section of my local co-op. It had roasted cashews and almonds, pumpkin and sunflower seeds, and raisins, dried apples, and dried cranberries, all with a mild and slightly sweet-salty curry flavor. It was great for snacking and also excellent stirred into hot oatmeal or multigrain cereal.
Soon I learned I had to restrict my sodium intake, and this mix had a fairly liberal dose of salt in it, so I resolved to make my own. It was simple to recreate with bulk ingredients, and I can customize it depending on my whim. It's probably 10 years that I've been putting this in my porridge (and occasionally snacking on it by itself), and I'm not tired of it yet.
The ingredients and ratios are flexible according to your taste. I've never really measured anything until I decided to write it up as a recipe just now. I just aim to end up with about four cups, which fits nicely in a quart size yogurt container.
Ingredients
Unroasted cashews – about 1-1/2 or 2 cups. It's in the name as the main ingredient, so don't be stingy.
Roasted almonds ~ 1 c.
Raw shelled pumpkin seeds ~3/4 c. (I always toast a few extra and leave them out to sprinkle on salads and such.)
Sunflower seeds ~ 1/2 c. (optional)
Raisins, dried cranberries and other dried fruit ~1 c.
Flaked coconut ~2/3 c. (optional)
S&B or other mild curry powder. Start with about 1 teaspoon and add more to taste.
Salt to taste (optional)
Notes on the ingredients
I specify unroasted cashews because you want to roast them at home, then add the curry seasoning while they're hot so it sticks to the surface.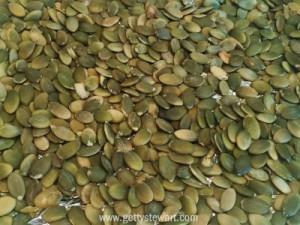 Get the freshest nuts and seeds you can find. Sometimes that's in the bulk section of whatever market has such a section, but sometimes it's those handy zip-lock bags at Trader Joe's. During this pandemic period when speed and ease of shopping has been important, I've gone with TJ's bagged nuts, but I'll probably go back to bulk and (in some cases) organic nuts if I ever can return to the kind of shopping where you linger in the bulk section getting bits of this and that.
I've stopped using sunflower seeds because it's hard to get consistently fresh roasted ones, and I find it too much trouble to toast the raw kind – because they're so small they're easy to scorch. The taste of one stale or rancid sunflower seed totally ruins the batch for me. Your mileage may vary. You can also add whatever other seeds you like – sesame, flax …
The coconut I use is the kind that's dried in large flakes, an inch or more long and maybe a quarter-inch wide. Very handy to have around to sprinkle on just about any recipe that uses coconut milk, like Thai curries.
The commercial trail mix had tiny cubes of dried apple. You can find these in some bulk sections and I used them for a while in my homemade mix but found they didn't contribute much to the flavor.
Assembly
My toasting process uses two different methods: a toaster oven and a stovetop iron skillet. Use what works best for you. Preheat toaster oven to 350, and heat a large skillet on medium, then reduce the heat to low.
Toast the cashews in a roasting tray in the toaster oven. I give it 8 minutes, stir, then another 5 minutes, but times will vary by appliance. You want them nice and golden brown and very fragrant, the oil popping out on the surface.
At the same time, toast the pumpkin seeds in the skillet. Stir every couple of minutes. They should start popping as they puff up after about 5 minutes or so. Keep an eye on them and don't let them burn, but leave them in until most of them have puffed up. When they're done, turn off the burner, pour the seeds onto a plate, and toss your raisins and cranberry seeds into the warm skillet (if you're using the kind of burner that stays hot for a while, take the skillet off of it). If you're also using dried cherries or apricots, add them too, but not the apples if you're using them. You want the dried fruits to be soft and sticky so some of the curry powder sticks to them.
When the cashews are done, right away pour them into a large mixing bowl and sprinkle the curry powder (and salt if using) on them, then toss or stir vigorously for a few seconds. Add the pumpkin and any other seeds, the almonds and any other nuts, and stir/toss some more. Once the dried fruit is warm and pliable, toss it in and stir some more.
If you're using coconut, pour the raw flakes onto the tray you used for the cashews and pop it into the toaster oven. Roast for about 5 minutes, keeping a close eye on it and stirring a time or two. You want it golden brown and fragrant. When done, add to the mixture and stir it in.
Once it's all cooled down, put it into an airtight container. It'll keep for at least 2-3 weeks, if it lasts that long. I use 1/3 cup per serving of oatmeal, adding it after the porridge is fully cooked.