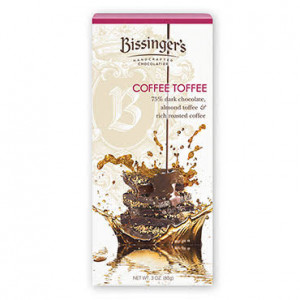 Sometimes I feel as though I'm not cool enough for some of these uber-fancy chocolate bars. Such was the case with this one; made in Italy, sustainable trade, single-origin chocolate…I'm way out of my league here. And I'm not telling anyone I'm out of my depth. Well, except you. Because this bar is a wonder.
This is a chocolate bar that tastes like early morning. There's a strong coffee flavor in this chocolate, with a power and grittiness that has me thinking of Greek coffee. It's a bar that grabs you, shakes your tastebuds, and demands attention. I want to grab a square of this in lieu of a coffee for days when I've got to run out of the house. Maybe I will. (I'm sure I will.)
The finely ground toffee is scattered on the bottom, like the chocolate was poured into the mold, then the toffee sprinkled on "top" before letting the bars set. That way you'll see a smooth, shiny deep chocolate with the Billinger's logo on each square, but the reverse shows you the crumbly toffee goodness. Each piece doesn't get the same amount of toffee, making me think that this is a handmade bar. (Oh yeah, the packaging does say handcrafted. Go me.)
Squares that don't have as much toffee can be a bit overpowering with the coffee and cocoa, making me wish they'd had a heavier hand with this ingredient. As for the almonds? I'm guessing they're in the toffee, but as the toffee is this close to dust with no piece getting larger than two sesame seeds stuck together, it's hard to see the nuts, let alone taste them. But the toffee and coffee blend exceedingly well when pieces have the ratio of about 60% chocolate and 40% toffee.
This bar would be great for quality s'mores, as a nosh with apple slices and/or non-chocolate cookies (let this bar shine, y'all), and a lovely hot or vineyard-influenced beverage. Or toss a square or two into a pot of tomato based pasta sauce or chili. Hey, don't knock it 'til you've tried it