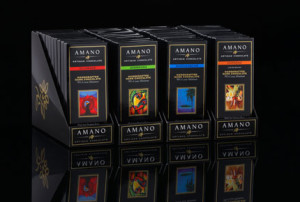 I can only speak for myself as a chocolate addict, but I loosely categorize chocolate into three general categories: cheap chocolate to be scarfed as needed, mid-grade chocolate that's to be enjoyed more slowly . . . and then there's the really good stuff, chocolate to be savored and hoarded and mourned when it is gone. My guilty pleasure, Reese's, falls into the first category. Ritter Sport, Godiva and Ghirardelli fall into the second. And the third … well, it's sparsely populated, but now includes, courtesy of Green Man Review, Amano dark chocolate bars.
Amano provided six bars for GMR to review. Fellow GMR reviewer Robert gave us his thoughts on three of the bars a little while ago, and this review will cover the three that came my way: Montanya limited edition, Guyas and Madagascar.
All three bars have the same short ingredient list: cocoa beans, pure cane sugar, cocoa butter and whole vanilla beans, but have very distinct flavors. Clearly, the beans themselves make a difference. Each of the bars has a different geographical source: the Montanya's beans are from Venezuela, Guayas' are from Ecuador, and, obviously, the Madagascar's are from Madagascar. All three have a 70% cocoa content, planting them firmly in the "dark" chocolate corner.
Each bar comes with a slip of paper that provides tasting guidelines, exhorting the taster to allow the chocolate to dissolve on the tongue, rather than nibbling (or devouring, as was my wont) the bars. Sage advice indeed! I discovered the guidelines after a nibble or two, and must say that following the recommendation definitely enhanced my experience. Not only does the chocolate last longer, the flavor lingers on the tongue for far longer. I'll have to remember this the next time I have such worthy chocolate.
Yes, worthy. These bars are among the best, if not the best, that I've ever had the pleasure of tasting. I ate them sparingly, managing to make them last over a month, a small miracle in my home. The chocolate in all three is rich, full-bodied, and with a good blend of bitter and sweet. When bitten, they have a satisfying crispness to them, and when dissolved on the tongue, the melted chocolate has a pleasant feel to it.
Of the three, the Madagascar has the most distinctive flavor. There's a fruity current beneath the chocolate, a perfect sweetness to counter any bitterness. The site describes it as citrus and raspberry, but it comes across as faintly rasiny. Either way, it's absolutely delicious. The Guayas is described as having a complex flavor — fruity, smoky, spicy — and I'd agree. It's hard to pin down any particular element, but the flavor is definitely complex and pleasing. Though simpler and more straightforward in taste, the Montanya is a winner as well.
If you're a fan of dark chocolate, you owe it to yourself to give one of these bars — or another in the Amano family — a try. You won't be disappointed!
You can find more info on Amano chocolate and view their entire line of bars on their Web site.