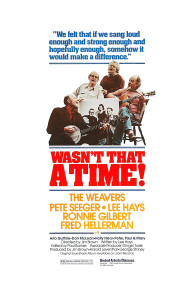 Studs Terkel claims that the main contribution of The Weavers was that they introduced into American popular music the authentic folk songs of America, something that had never been done before. Harry Reasoner sees them as a unifying factor between the rebellious times of the '30s and the rebellious times of the '60s. In the late '40s Lee Hays, Ronnie Gilbert, Fred Hellerman and Pete Seeger formed a quartet whose goal was to practice more than most existent folk groups, and therefore present folk songs in a more acceptable commercial format. That was The Weavers.
Wasn't That A Time shows a much older group. Reuniting for the first time since they sang at a birthday party ten years earlier, we see them writing to each other, sounding each other out, practicing, playing at a family picnic, and then performing at a Carnegie Hall concert. The faces are older, the hair whiter or thinner, but the spirits remain the same. Seeger says "there are two things that will impress a Carnegie Hall audience … Ronnie's voice is better than ever and Lee can still sing in tune." Then he says, "But can you imagine a basketball team getting together after thirty years, running through their old plays?" Hmmm.
Through a series of old clips and new footage the viewer soon sees that the mix of voices and choice of songs still resonates. The simple guitar-banjo accompaniment and four part vocal harmonies may sound a little dated but are powerful. This is a homey look at the reunion. It's hard to imagine the political whirlwind that caught them up earlier in their career. They were all involved in the Red Scare of the '50s, and you need to do further research to figure that all out. As you see them sitting around the dining room table singing Woody Guthrie songs they seem particularly harmless, until you listen to the lyrics they're singing. Spanish Civil War songs, American political songs; The Weavers were the first to record an English version of the African melody "Wimoweh." Seeger tried for years to ensure that the African composer received his royalties!
The importance of The Weavers is stated in interviews with Arlo Guthrie, Don McLean, Holly Near and Peter, Paul & Mary. The effect of the blacklist, loss of revenue, cancelled concerts, withdrawal of record deals, are all discussed openly and in good humour. There is very little bitterness, and quite a bit of history. But the essence of The Weavers … and the core of this programme … is the music. Nearly two dozen songs are presented in whole or in part. Not the least is the Hays/Seeger composition "If I Had a Hammer." While the original Weavers' version sold next to none, over a hundred cover versions followed. The film plays a medley of a handful of these covers, from Trini Lopez to Aretha Franklin, from reggae to Johnny Cash country.
The joy of singing, the love of music, affection for each other, and a remarkable dignity surround this group. The film displays this clearly. It is a loving portrait of an important group. This film was made in 1981, shortly before Lee Hays passed away. It was reissued on VHS in 1995. It calls out for a DVD release with bonus footage of the entire Carnegie Hall concert! And if it reminds you just a little of an early version of A Mighty Wind, well, that's not such a bad thing.
(Warner Reprise Video, 1992)