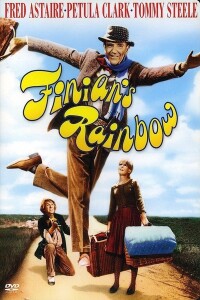 Finian's Rainbow is a particularly tricky movie to review. Is it a lighthearted musical romance? Or is it something deeper? Politically speaking, the original musical upon which the movie was based opened on Broadway in 1947. Though it was milder in political tone than the film version 20 years later, I can only imagine what the reactions of some theatergoers must have been.
Sharon McLonergan has followed her Father Finian and his dreams from Ireland to America. Finian has stolen a pot of gold from a leprechaun in the old country, and he believes that if he buries the gold in the rich American soil near Fort Knox, the gold will grow like a plant and he will become a millionaire.
Finian and Sharon end up in Rainbow Valley, a community of sharecroppers only a few miles from Fort Knox. They happen upon the town just as the sheriff is preparing to auction the property owned by Susan the Silent and her brother Woody Mahoney, who are in default on their taxes. Woody has left town to find backers for his tobacco cooperative. He returns just as the sheriff is about to start the auction and the townspeople are engaging in a nonviolent sit-in to protest the sale. Woody has the necessary funds to pay the back taxes, but he is short $70 for interest. Sharon and Finian loan Woody the money, and the sheriff is foiled.
Finian becomes Woody's partner, and Finian and Sharon move into a house outside of town. Woody and his friend Harold, a botanist, show Finian and Sharon their tobacco, which Harold has been crossing with mint to make it mentholated. Woody believes that the mentholated tobacco is the key to riches and he intends to lead his community out of poverty and into wealth by selling the new tobacco. The obstacle now is that the tobacco won't actually burn, but Harold is working on the problem.
Finian buries his gold, but Og, the leprechaun from whom he stole it in the first place, has followed him to American and confronts him, demanding his gold back. Og tells Finian that he's losing his magic and becoming a mortal because of his loss.
Sharon falls in love with Woody. Og falls in love with Sharon. Sharon accidentally uses the magic of the leprechaun gold to turn the racist Senator Billboard Rawkins into a black man. Og falls in love with Susan the Silent (leprechauns are fickle) and uses the power of the gold to help her. In turn, she and Og help Sharon and Woody and happy endings ensue all around.
Finian's Rainbow is extremely outspoken about the evils and stupidity of racism. Senator Billboard Rawkins is a caricature, but a chillingly realistic one. An elderly bigot, the Senator is particularly offended by the fact that black and white sharecroppers are living and working together in Rainbow Valley, and one of the reasons he wants to buy up the land is to ensure that the sharecroppers are segregated. He wants to go forward, he says, "forward to the sweet tranquility of the status quo. Forward to yesterday." The Senator's transformation into a black man, and his subsequent transformation by Og the leprechaun into a good man, must have been strong stuff for some viewers years ago.
The sweeping indictment of racism is more than enough reason for me to enjoy the film. The performances are uneven but enjoyable. Petula Clark is passable as Sharon. Fred Astaire (in his last leading role) shines as Finian McLonergan, and Tommy Steele is a fabulous Og. Don Francks is barely adequate as Woody, unfortunately; I'm not making a pun when I say that his performance is wooden. Keenan Wynn is fantastic as the Senator. Pay special attention to Al Freeman, Jr. in his amazing performance as Howard the botanist. His portrayal of the young scientist as he attempts and fails to act like a properly subservient "colored boy" is a better illustration of the stupidity of racist stereotyping than many a long impassioned speech or melodramatic morality play. In a side note, Freeman later went on to play both Malcolm X and Elijah Mohammed, and though brilliant in both roles, I still find this to be one of his most dignified performances.
With a score by Burton Lane and lyrics and story by Yip Harburg (who also wrote the songs for The Wizard of Oz), Finian's Rainbow has much to offer as a musical. "That Old Devil Moon," "How Are Things In Glocca Morra," "That Great Come and Get It Day," "The Begat"… this is a film filled with toe-tapping, sing-along music, not to mention the opportunity to see that, even as he aged, Fred Astaire remained one of the greatest dancers in the history of cinema.
Finian's Rainbow isn't perfect by any means, but it has magic. There are far worse ways to spend an afternoon than by looking to the rainbow …
(Warner Bros., 1968)