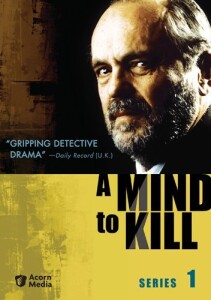 A Mind to Kill was a really gritty police detective series developed from a 1991 pilot with the series running from 1994 to 2004 and which aired first in Wales. Befitting its setting in Mid Wales, it was indeed filmed largely in Aberyswyth and Cardiganshire.
The first season collection skips the pilot for reasons unknown, to present six roughly hundred-minute episodes, which is a common running time in many similar UK series. The six episodes is two longer than similar series like Midsomer Murders, Dalziel and Pascoe, and Waking the Dead. I do know that the pilot had different actors for many of the primary roles.
Here's a summary of the episodes:
Black Silence – Amidst serious labour unrest, Noel Bain investigates the murder of a prostitute in his home town.
White Rocks – A young mother who was into unsavory things is murdered at a holiday park, and her seven-year-old son vanishes after witnessing her murder.
Gameboys – A charred body leads to the discovery of a really tawdry affair of sex, drugs and deception among rugby players.
Rest Not Secure – Noel Bain is taken hostage by an escaped prisoner with a demented plan.
Son of His Works – A murder is the link between a religious community, a heroin dealer, and a prominent barrister.
Rachel Hardcastle – Noel Bain becomes a prime suspect in a convoluted murder case in which love becomes hate. Cue Pretenders if you will and their 'A Thin Line Between Love and Hate'.
Noel Bain (Philip Madoc), Detective Chief Inspector at a constabulary in an unnamed, somewhat rural community, is a widower for a decade or so now, with a seventeen year old daughter named Hannah (Ffion Wilkins in her only major acting role) who is less than thrilled by having a copper for a father. Other recurring characters include pathologist Margaret Edwards (who may or not be involved romantically with Noel), DS Alison Griffiths (Gillian Elisa), DS Carwyn Phillips (Geraint Lewis), and Superintendent Jack Bevan (Michael Povey). There are background characters that also appear from time to time in the first set of episodes.
Acting here, unlike the Bonekickers series which I just watched and reviewed, is spot on. Following on that comparison, the plots and back story are quite wonderful – in a grim sort of manner, as there's no doubt that this was filmed in an economically depressed Welsh community. As I noted above, it was filmed in two versions – English and Welsh – with a largely all Welsh cast. Detective Chief Inspector Noel Bain deals with sociopathic gunman, closeted gays who murdered their boy toys, a mining union boss who may be a serial killer, and, my favorite, drugs, sex, and porn at a camp catering to local folks on vacation.
In the grimness of tone, it matched both Dalziel and Pascoe and Waking the Dead; certainly it is far darker than Midsomer Murders is at its darkest. I won't discuss the storyline in any detail as you'll really want to be surprised.
A brilliant show, well-acted with an intelligent story and an engaged and talented cast, filmed on location. Perfect. I look forward to seeing the second series when Acorn releases it!
(S4C Wales, 1994; Acorn USA, 2010)