The pedal steel guitar has long been one of my favorite instruments. There's just something about its sound that can go from quicksilver pure to rough and distorted in the blink of an eye that captured my heart at some point along my journey as a music lover. It's a notoriously difficult instrument to master, but in the hands of such a master, it creates sounds that range from unimaginably clean to mind-bendingly complex, that make you want to dance or weep.
The instrument is most closely associated with country music, of course, and I'm sure I heard a lot of it in my youngest years, growing up in rural communities where what is now called classic country was in the air. But I have no specific memories of hearing a pedal steel in a country song from back then. So I wondered, when did I first become aware of it? It seems to have been when it first started being used in rock music in the late '60s and early '70s. (Similar to the way I first got seriously into jazz when musicians began incorporating rock and soul – my generation's music – into what they were playing. But that's a topic for a separate article.)
So I've been dredging through the memory banks for some of the songs that first piqued my interest in the pedal steel guitar. Here, to the best of my recollection, are the main ones.
The Grass Roots' Don't Remind Me
It was pretty hard to avoid The Grass Roots if you listened to the radio in the mid to late 1960s in the United States. The band started out as the project of a couple of well known songwriters and a handful of L.A. studio musicians, then morphed into a real band … it's a long and complex story with a lot of interesting names involved, much of which is covered in the group's Wikipedia entry. My older brother and I (we often shared musical purchases) only owned one of their albums, their fifth Leaving It All Behind. It was a solid if mostly unremarkable album that spawned a couple of hit singles, "I'd Wait A Million Years" (Top 20) and "Heaven Knows" (Top 40). I listened to the album quite a bit over a period of a few weeks in the summer of 1969, and the one song that began to stand out for me was the one that had a quite different sound. It sounded like a country record, in contrast to the bluesy soulful pop that dominated most of their singles. "Don't Remind Me" unbeknownst to me was the B side of "Heaven Knows" but on the album it came toward the end of the first side. It's a sad country-ish song about the painful memories of a lost love, with lyrics that are a bit clumsy at times, an equally clumsy bridge, but a catchy melody. It was written and sung by guitarist Warren Entner, but what really caught my ear was the pedal steel guitar that permeates it. It was played by an uncredited studio musician who could just possibly be O.J. "Red" Rhodes, who was one of the on call steel players for the Wrecking Crew at the time. I was already a fan of country music, but here was a country song aimed at my generation, not my parents'.
Crosby, Stills, Nash & Young's Teach Your Children
This one's pretty obvious, right? It might have been the song that introduced a lot of rock fans to the pedal steel guitar, and it may be the only one that a lot of them know that features the instrument so prominently. Written by Graham Nash when he was still in the Hollies, it was recorded by CSNY and released on their debut Dèjá Vu in March 1970. It hit No. 16 on the Hot 100 as one of three singles off the album, along with Joni Mitchell's "Woodstock" (No. 11) and Nash's "Our House" (No. 30). The Woodstock festival for me and my friends defined the music in much of 1970. We listened to the soundtrack album all summer, which prompted us to pick up Dèjá Vu in the fall, as well as various members of the group's solo albums before the year was out. This is the only song on Dèjá Vu with pedal steel guitar, and I love the story behind it. The band persuaded Jerry Garcia to play the pedal steel on the song. He agreed, on the condition that Crosby, Stills, and Nash teach him and his Grateful Dead bandmates how to sing harmony vocals together, which they put to use memorably on their next two albums, still their most popular, Workingman's Dead and American Beauty. Garcia had only just learned the instrument, and he patched together a number of takes that were used throughout the song and in the solo. It sounds great anyway.
John Sebastian's Rainbows All Over Your Blues
Speaking of Woodstock, this one also was part of the musical spinoffs from the 1969 festival. I was something of a fan of Sebastian's folk group The Lovin' Spoonful, and he unexpectedly had an entertaining moment in the spotlight at Woodstock. The soundtrack featured a couple of his songs, "I Had A Dream" and this one. The story of the recording of Sebastian's solo album on which those songs appear John B. Sebastian is a long and twisty one.  My brother and I bought it on the strength of the Woodstock songs, as did apparently a lot of other people, because it was his biggest selling album of a lengthy career. Interestingly many of the personnel also appear on CSNY's Dèjá Vu, but the pedal steel on "Rainbows" is played by the superb Buddy Emmons, one of the great innovators on the instrument. Though mostly based out of Nashville and primarily a country musician, he also played on numerous rock, folk, pop and jazz projects. This performance on Sebastian's record is the most classy and classic sounding of all of them on this little list of mine – just gorgeous tone, flawless technique and delightful inventiveness in service of the song. And Sebastian even name-checks Emmons in the lyric!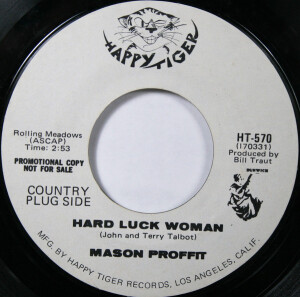 Mason Proffit's Hard Luck Woman
Of all the records my brother came home from college with at the end of his freshman year, the first two albums by Mason Proffit probably influenced my life the most. Their first album Wanted and second, Moving Toward Happiness (Happy Tiger, 1969 and 1971), made me delirious with joy. Here was some actual country music, with banjo, harmonica, electric guitars, pedal steel guitar, and delicious sibling harmonies, but Terry and John Talbot were more or less of my generation, and their songs were aimed squarely at us. Their songs were topical like a lot of folk music – songs about the Vietnam War, pollution, the treatment of American Indians, and other social issues – but it was hard rocking country. And sometimes it wasn't very much about social issues, such as this one, "Hard Luck Woman," which featured the teenaged John Talbot's pedal steel most prominently of any of the tracks. Actually, pretty much all trucking songs are at bottom about the exploitation of labor by big business, and how that exploitation damages relationships and causes generational trauma. As Terry sings in the last line of the third verse, "I'd rather have a woman lay me down than all these bennies to keep me awake."
Bob Dylan's Tonight I'll Be Staying Here With You
Something was definitely in the water that rock musicians were drinking circa 1969, and it came out tasting like country. Tiring of topical songs, Dylan went to Nashville, appeared on The Johnny Cash Show, and made Nashville Skyline with a bunch of Nashville session players, including the great and innovative Pete Drake on pedal steel. It spawned three singles including the Top 10 "Lay Lady Lay," and two that hovered in the middle of the Top 100, "I Threw It All Away" and "Tonight I'll Be Staying Here With You." Drake's pedal steel is more prominent on "Lay Lady Lay" and that song might be the more obvious choice here, but to me "Tonight I'll Be Staying Here With You" is much more of a classic country song and Drake's playing is just as good. I was a relative late comer to Dylan fanhood so Nashville Skyline didn't come onto my radar until maybe 1972 or '73, and when I did listen to it, "Lay Lady Lay" was probably my least favorite, while Dylan's sly humor and Drake's equally sly playing made "Tonight I'll Be Staying Here With You" a standout.
Michael Nesmith & The First National Band's Mama Nantucket
I wrote about my love for Nesmith and his band's three classic country rock albums here. Red Rhodes' steel guitar was the second most important element of these albums, after Nesmith's songs themselves, and nowhere is it more riveting in a classic country way than on this track that opens side two of their first album Magnetic South. He plays a classic intro that mimics a Jimmie Rodgers yodel, a knockout solo between verses, and adds dynamite fills throughout.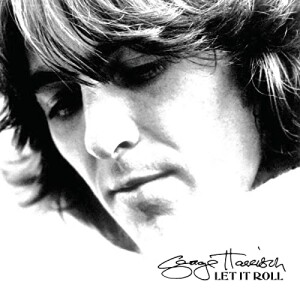 George Harrison's The Ballad of Sir Frankie Crisp (Let It Roll)
A little over a year after the Nashville Skyline sessions Pete Drake was in London playing on the sessions for George Harrison's first proper solo album, the massive All Things Must Pass. Drake only played on a few tracks, most notably this one and the title cut. I'm cheating a bit by including this song in my list, because I first consciously noticed the pedal steel guitar in these songs within the past year or so. The production on this album is so dense, especially with guitars of various kinds, that it just didn't register with me that that's what I was hearing. It's especially prominent on "All Things Must Pass," but electric slide guitar playing by Harrison, Eric Clapton, and others is also all over the album. "Let It Roll" improbably became my favorite song on this album, partly because it's such an unlikely song full of odd lyrics as Harrison takes us on a tour of Friar Park, his Victorian neo-Gothic mansion in Henley-on-Thames, which was built by the eccentric lawyer Sir Frank Crisp in 1896. But I have to think that some of the attraction to the song was a subliminal appreciation of Drake's astounding pedal steel work here, as he really goes to town with psychedelic swoops and swashes that get more amazing as the song progresses. They're more prominent on the 50th anniversary remix version released in 2021.
I hadn't realized until I compiled this list that all of these songs were released between 1969 and 1971. Obviously they were watershed years in popular music, and were crucial in forming my musical tastes. Much of the music I like today, I like because my tastes were formed, in part, by these songs. The pedal steel guitar examples here may not all be technically the best in terms of style or technique, but that's not what I'm about. These are songs that have stuck in my mind for more than 50 years, in part because of the role that the pedal steel guitar played in them. I've always gravitated toward sounds and music that are out of the ordinary, and those musicians adding this country instrument to their rock songs were stretching the boundaries of their music.