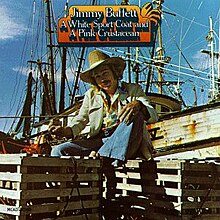 Well. I didn't see this one coming. Mr. Margaritaville has transitioned to the Big Beach.
I'm not a real Parrot Head, as the Buffett fanatics call themselves. I stopped following him in the mid-80s, when he started getting played on country music television and became a cultural phenomenon. But for a few years there in the late '70s and early '80s I listened to Jimmy Buffett as much as I did to The Beatles and Linda Ronstadt and a few other favorites.
I think the catalyst was my first wife, mother of my now grown kids. She heard "Little Miss Magic" (off his 1980 album Coconut Telegraph) over the radio in the dentist's office where she was working at the time, and it tugged at her heart since we had a 1-year-old daughter at the time. My older brother was something like an early Parrot Head back then – collected all the albums, went to see him whenever he came to Oregon – so I copied a bunch of his LPs onto cassette tapes, and we played those over our stereo at home and in the car until we (and eventually the daughter) could sing along.
And what a bunch of albums they were! He'd only had a couple of radio hits, the romantic "Come Monday" in 1974, and the one-two punch of "Margaritaville" and "Changes in Latitudes, Changes in Attitudes" (No. 1 and No. 6, respectively) in 1977. But he had a run of excellent albums through the '70s on ABC and in 1979 on MCA: A White Sport Coat and a Pink Crustacean, Living & Dying in ¾ Time, A1A, Havana Daydreamin', Changes in Latitudes, Changes in Attitudes, Son of a Son of a Sailor, and Volcano. I liked a couple of the early '80s albums too, the aforementioned Coconut Telegraph and its follow-up, Somewhere Over China.
Like just about any male pop singer from the era (well, most eras to be honest), he had some problematic attitudes about women, gender roles, that sort of thing. The misogynist bridge on "I Have Found Me A Home," kinda ruins a song I otherwise love. But for the most part his songs are clever, funny, and often surprisingly deep. In an interview I saw on one of the country music channels in the mid-80s, when asked what he thought was his best song, he replied "He Went To Paris." This ballad of an American who goes overseas as a young man, marries an English woman, loses her and their son during the Blitz, and lives out his older years on a Caribbean island, is a novella in three verses, and ends with a fitting epitaph: "Some of it's magic, and some of it's tragic, but I had a good life all the way."