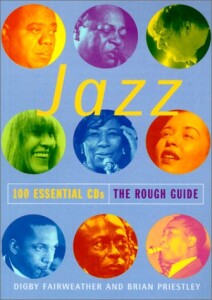 What a great idea! What a fantastic job! Sit around the house, listen to music and choose the 100 CDs that define a style, and then write about it. Your choice becomes etched in stone, or at least on paper, and readers all the world 'round consult your list when they go out to the record shop. Sounds just about perfect.
These two compact volumes may not be perfect, but they offer enough information and justifying arguments to make them nearly perfect companions to a record collector with an open mind and deep pockets! The books themselves are reasonably priced, just around $6US, but if you happen to find the writing as convincing as I did, then you're going to be spending more than that to bring these must-have albums into your collection.
Digby Fairweather and Brian Priestly also wrote the much larger and more in depth Jazz: the Rough Guide with Ian Carr and are acknowledged experts in the field. They make informed and fascinating selections, some expected, even conservative, and others a little surprising. Louis Armstrong's Hot Fives & Hot Sevens recordings are seminal, and should be in every jazz lover's collection (they appear here) but I was surprised to find Bill Frisell represented (even though I am a fan and believe he deserves his spot).
All the usual suspects are represented: Count Basie (two titles), Duke Ellington (three titles), Monk, Mingus, Charlie Christian, Stan Getz, Goodman, Gillespie, and so on. More dramatic choices include the bizarre three-record set Escalator Over the Hill by Carla Bley, which features the star-studded Jazz Composers' Orchestra with Jack Bruce, Linda Ronstadt and Gato Barbieri, among others.
How do you choose from a lifetime of music by someone like Miles Davis? The authors point to Kind of Blue, a safe bet, which is probably in more beginning jazz collections than any other record. Even my 19-year-old son has that one! Then they list Bitches Brew, a more controversial selection but deserving of a listen by a broader audience.
The only problem I have with Jazz: 100 Essential CDs is that the copy I was provided with is missing 64 pages! I didn't get the final word on Herbie Hancock, Earl Hines, Billie Holiday, Keith Jarrett, Stan Kenton or the Mahavishnu Orchestra.
Latin: 100 Essential CDs follows exactly the same format (except my copy is complete) and was written by Sue Steward, author of Salsa, Musical Heartbeat of America. Her choices are just as exciting, just as in-depth as the Jazz co-authors', and her writing is filled with a passion for the music.
She begins with a brief history of Latin music, tracing the early days before Buena Vista Social Club, and reveling in the explosion that Ry Cooder and Nick Gold's journey to Cuba caused. Then she takes us on an alphabetical excursion through the Caribbean and beyond. Joe Arroyo, Susana Baca, Ray Barretto, Jorge Ben Jor, and Ruben Blades represent Colombia, Peru, Puerto Rico, Brazil and Panama. Their music is linked by rhythm and high quality. David Byrne (ex-Talking Head) finds a place on the list for his salsa-influenced Rei Momo album.
Willie Colon, Celia Cruz, Gloria Estefan and the Fania All-Stars all have albums on the list, but, intriguingly, Buena Vista Social Club is nowhere to be seen. Perhaps Steward's assumption is that everyone has it already! She does include Ibrahim Ferrer's solo album, which is a remarkable recording, and features all the members of the BVSC backing the romantic vocals of this septuagenarian.
Books like this can be read front to back or they can be dipped into – flip here, scan there. They can be used as shopping lists (and they are small enough to fit into your pocket) when you browse the CD racks. They can be used to spark discussion and debate. Start your own list. You may not be the expert these authors are, but you know what you like. It is not easy to recommend only 100 essential titles, and both of these volumes include secondary recommendations of titles that were bubbling under. These authors present informed arguments, and at the very least, readers looking for suggestions will find a place to start and a sense of history.
100 Essential CDs books are also available for blues, classical, country, opera, reggae, soul and world music. They are a tremendous resource, and convenient too!
(Rough Guides, 2001)