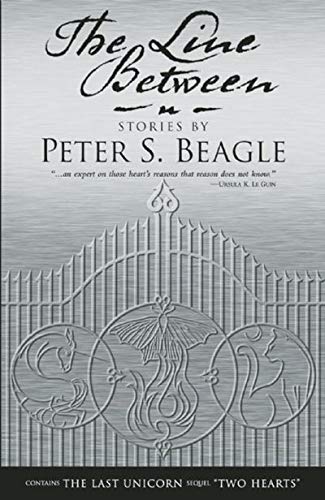 I must confess that I lose track rather easily of when a book or collection that I am reading is being published, as much of what I read is in the form of drafts (such as Peter Beagle's upcoming Summerlong novel), or manuscripts that are years from publication (as was the situation with several of Kage Baker's Company novels), or else ARCs like this one, of Beagle's latest story collection. ARCs usually come out three months or so before actual publication, which is rather fortunate for you: The Line Between should be available on-line or from your favorite local bookstore by the time you read this review. If it isn't, stop by my office at the Green Man and you can borrow this copy to read!
Short story collections from PSB are a rare treat indeed. There have only been two others, both published nearly a decade ago: The Rhinoceros Who Quoted Nietzsche and Other Odd Acquaintances (Tachyon Publications, 1997), which combined short fiction and nonfiction essays; and Giant Bones (ROC, 1997), which offered a collection of tales set in the universe of The Innkeeper's Song. (Viking's The Fantasy Worlds of Peter Beagle omnibus, way back in 1978, doesn't quite meet the criteria: two of the four pieces in it were complete novels.)
The new collection prominently features "Two Hearts," the eagerly awaited follow-up to The Last Unicorn. According to Connor Cochran, Peter's business manager, the story is a bridge between The Last Unicorn and an unnamed LU sequel that PSB is now working on. Like The Folk of The Air, you can read and enjoy "Two Hearts" without having previously read The Last Unicorn. But it will definitely mean more if you've either read the novel or listened to the audiobook recording which is narrated by PSB himself. (By the way, do go read "Farrell and Lila the Werewolf," which you can find in The Rhinoceros Who Quoted Nietzsche or The Fantasy Worlds of Peter S. Beagle. It's possibly the oddest love story ever told! Of course, it goes without saying that you'll want to read everything PSB has written. He's that good.)
Unlike many collections that simply reprint material originally published elsewhere, The Line Between offers two stories that are appearing in print for the first time: "Four Fables" and "El Regalo." It also includes "Salt Wine," a tale that shares certain aspects with Patricia McKillip's novel Something Rich and Strange. I mention McKillip because PSB's use of language is every bit as mythopoetical as her's. PSB's writings are in the same vein: storytelling at its very best, about odd but likable characters tossed into situations where reality takes a serious pratfall. He is similar in subject matter to Neil Gaiman, but with a lighter, defter hand. This is particularly obvious in his Summerlong novel, where PSB plays with the same kind of ideas that Gaiman explored in Anansi Boys. I've no doubt that Gaiman is a very good writer, but Beagle is better at keeping a story feeling fresh.
Reincarnated lovers, dead critics, an ambitious mouse, implacable assassins, kings that Lear himself could sympathize with, and sailors who discover that good luck might be quite a bit worse than no luck at all — there's many a story here to entertain you! My favorite? "Salt Wine," I think … no, possibly "Two Hearts"… or could it be that one that … well, like the McKillip collection Harrowing the Dragon, everything here is quite wonderful. You will certainly discover your own favorites in The Line Between.
(Tachyon Publications, 2006)
---
(Illustration from Ann Monn's cover concept for 2006 Tachyon trade paperback of The Line Between.)
---
Some Notes From Behind The Curtain
[courtesy peterbeagle.com]
Coming up with a title for this collection was a nightmare. Tachyon originally wanted it to echo the form established with their earlier Beagle collection, The Rhinoceros That Quoted Nietzsche and Other Odd Acquaintances. Much time was therefore spent fruitlessly trying to fill in the blanks on "The [noun] that [verbed][noun] and [insert colorful add-on]." At one point Salt Wine and Other Secrets was suggested, but of course that meant there would have to be a story in the book called "Salt Wine." As a possible title this suggestion crashed inside 24 hours; somehow the story got written anyway, to everyone's delight. After that the next leading title candidate was Mirror Kingdoms, which was stolen straight from Peter's own filing cabinet (his unpublished second novel was called The Mirror Kingdom). That option managed to last for about 48 hours before everyone decided they hated it. After that came … nothing. With a next-day distributor deadline screaming at them and no acceptable title in sight, Peter and Connor gave up trying and decided to go do something utterly mindless, which in this case turned out to be 18 holes of pirate-themed miniature golf. On the sixth hole, while the two of them cooled their heels in order to let a family with particularly rambunctious children play through, Connor abruptly turned to Peter and said "How about The Line Between?" Peter liked it a lot and immediately started outlining an introduction based on the idea, which is how they knew they were finally on to something.
The book's cover was conceived and realized by Ann Monn, one of Peter's favorite graphic designers. Ann has also spent years working in the fields of digital animation and movie special effects. Among other jobs, she did most of the compositing that created the various images of Heaven and Hell in the movie What Dreams May Come.
Except for the 405 words that make up "The Fable of the Moth" (and bits of "Gordon, the Self-Made Cat") everything in The Line Between was written after 1999, and most of it since 2003. The book reflects a new phase of Peter's writing, in which he aims to turn out a steady flow of short fiction in addition to the novels he has previously been known for.
As of January 2007 The Line Between now has an unusual distinction — every single eligible story in the collection has been picked up for reprint in a major "Best Fantasy of the Year" anthology, and in some cases more than one. "Quarry" and "Two Hearts" were selected prior to publication in The Line Between, and "El Regalo," "Salt Wine," and "Four Fables" afterward. (Of the other three stories in the book, one is a mystery story, one is a childen's story, and the other was originally published as a book in its own right and therefore too long for any "Best Of" book.)
Update: "Two Hearts" won the 2006 Hugo Award for Best Novelette, and the Nebula Award for Novelette. It was a finalist for the World Fantasy Award, which went to "CommComm," by George Saunders.