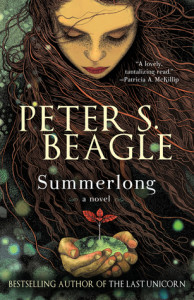 Peter S. Beagle's Summerlong is an exercise in masterful, hopeful heartbreak. Deeply steeped in mythology yet relentlessly modern (if a bit sentimental), it tackles the big questions of love, compromise, dreams, and what you might do – or forgive – in the face of the sublime.
The book focuses on the enduring, loving relationship between flight attendant Joanna Delvecchio and professor Abe Aronson. They've been together for roughly two decades and have settled into a comfortable, affectionate, occasionally passionate state of being together. He lives in his slightly ramshackle house out on an island in Puget Sound while she keeps an apartment on the mainland; he putters endlessly with a book that never seems to get closer to being finished while she frets over her endlessly unlucky-in-love daughter. They know they are, they know what they have together, and what they don't, and their love is, if not old, at least middle-aged and wise.
And then suddenly, a young woman named Lioness walks into their lives, and everything changes. The weather on the island gets, and stays, unusually pleasant. Small magics abound as Lioness sets up shop in Abe's shed. And long-dormant seeds start sprouting. Abe's feckless fiddling with blues harmonica suddenly grows into a very real thing, while Joanna finds herself obsessed with a something she thought she'd never dare attempt. For her part, Joanna's daughter Lily falls hopelessly in love with Lioness in a way that's equal parts romantic and worshipful. Things look to be impossibly golden and good.
But summer, even an unnaturally prolonged summer, inevitably has to end, and it all comes crashing down. Lioness is on the run, that much is obvious, but nobody connects the mythical husband she's fleeing from with the courtly, oddball gentleman Joanna meets on the island ferry. But even before he and Lioness come face to face, the cracks are beginning to show. Joanna keeps the existence of her new friend a secret from Abe, a creeping emotional infidelity that pairs nicely with his growing romance with his music and commitment to the ramshackle band he finds himself a part of. The perfect, the eternal enemy of the good, has revealed itself in the form of Lioness Lazos, and under such circumstances the good begins to crumble.
Those are cracks, though. The real rupture doesn't come until Joanna and Abe, much to the reader's horror, innocently bring Lioness' husband to the diner where she works, where Abe is called up on stage to play the set of his life, and where all the built-up tensions finally rupture explosively. Brutally, lovingly, acts of unthinkable betrayal tears everything in Joanna and Abe's world apart.
What is left is the old world, made anew, a circle completed the long way round. There is heartbreak, and there is hope, too. Some things are lost, but others – from Joanna's new passion to her more honest relationship with her daughter to Abe's reinvention of himself – are gained. Things end, summer dies, and the cycle moves on, no matter how much we – or Lioness – might wish to forestall it. That's the lesson here, and it's delivered with a gentle relentlessness.
Savvy readers will figure out pretty quickly the mythological underpinnings of Beagle's story, which roles Lioness and her husband play and by extension, those filled by Joanna and Abe. And yet Beagle doesn't have the characters retrace the roles laid out for them by Hesiod, strolling to the same old conclusions. Can the book be nitpicked? Probably. The author's voice is prominent in the dialog, which can be jarring if you're reading it naturalistically. If, however, you are reading it as modern myth, as a story told by a storyteller directly to an audience, then those foibles drop away.
Is Summerlong a cheerful or light read? Not in the slightest, and there are moments that are wrenching. The journey, however, is more than worth it, a descent into an underworld of the soul and, hopefully, an ascent back into a new and different light.
(Tachyon, 2016)