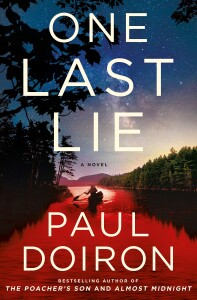 One Last Lie is Paul Doiron's latest novel of adventure and mystery in the wilderness near the U.S.-Canada border. Filled with questions of past sins and current crimes, the book manages to continue in the trend of exciting and detailed mysteries in Doiron's work. Like many mysteries, this volume starts with a little breathing room to familiarize us with the protagonist.
Our lead is Mike Bowdich, an investigator for the game wardens. He enjoys his work very much, and is traveling to Florida at the time in order to better research a potential addition to the organization. He muses on the fact that a father figure once told him that you could not trust a man who never lied, and how it might relate to the individual in question. Mike has tracked down an associate the man failed to mention, in spite of a particularly long connection the two  have dating back to their shared time in military service.
His investigations put him in touch with the associate, a damaged man who wants to right some of his earlier wrongs and who has a list of names related to the candidate in question. Turns out the individual in question has a history of sexual assault, and there is more than enough evidence to back it up. Mike is quick to file his report and head off toward home, but finds a father figure of his disappeared not too long ago.
The opening investigation in which Mike learns about the candidate's sexual assault issues is fascinating, partly because it reminds the reader that the me-too movement has been going long enough for it to appear in mystery novels. Mike Bowditch takes this matter very seriously, understanding not only the kind of moral and ethical lapse this could seem to be but also just how much bad press it could give his organization.

Mike shows disappointment each time one of those involved in the hiring process doubts his evidence, or simply tries to dismiss it out of hand. This puts the reader on his side very quickly, and helps to illustrate that he's both a good investigator and a moral individual. All the same, later developments remind the reader that in any kind of law enforcement there is something of a boys club, and that even a well intentioned man may not always receive the full information on the ways his female colleagues are suffering. Similarly there come a few comments now and again showing his understanding of first peoples issues is imperfect but that he makes an effort. It is a very nice reminder our lead is flawed but very well intentioned.
The primary mystery relates back to the disappearance of Mike's mentor Charlie. Charlie was in the wardens before Mike, and was a little bit of a long timer even then. He leaves notes warning Mike not to look for him, and expressing a great deal of regret over something in his past. A few days before he was in a disturbing situation involving an antique game warden's badge, for which the individual in question has decided to claim serious injury. 
As Mike continues to search for his lost mentor he finds a tangled web of not quite connecting facts, including a college girl with minimal relationship to the likely last owner of the badge. A number of past members of the wardens come into play, associates of Mike and Charlie both. These include former commanding officers, disgraced individuals, and long passed on members who are greatly missed. Discoveries about these individuals, ranging from personal biases to past things account for many of the ladies while investigating Charlie's disappearance, not only where he has gone but why he disappeared.
Mike  has two love interests, Stacey and Danielle (aka Dani). Both have some experience related to law enforcement. Stacey is an ex-girlfriend whom Mike is still on good terms with. She is also the daughter of his father figure Charlie. Her first appearance in the tale does not relate directly to her father's dissapearance, but her continued presence links much more closely. There is a kiss, but it is chaste and more friendly than romantic.
Dani is a very career minded woman working in a related department, one who keeps in touch by phone and seems to be growing ill in stages throughout the book. Mike feels guilty for not being there during the illness, yet feels he cannot abandon a man who moulded him so much, and has saved his life on countless occasions. This seems to suggest a lack of devotion, but she is always his first call and first thought when out of danger. It is a mark of the devotion Mike has to her that he won't have kids because Dani doesn't want them.
To his credit Mike makes no attempt to persue Stacey romantically. Indeed on a number of occasions he actively avoids her company feeling that he would be a bit guilty if they spent too much time together even platonically. The love triangle is obvious to the reader, but they are not likely to fault Mike during it as he is so clearly trying to do what is right by everyone involved.
One Last Lie is an enjoyable mystery. There is a fair deal of peril, a plethora of suspects, and interesting personal stakes for the lead.

(Minotaur, 2020)