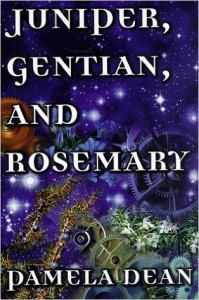 Rachael Rodgers contributed this review.
In her novel, Juniper, Gentian, and Rosemary, Pamela Dean offers a story inspired by a traditional ballad, a familiar and fascinating blend of lyrical writing spiced with literary references and a perceptive glimpse into everyday life touched with mystery and magic.
Juniper Meriweather is 16, sarcastic, and an excellent cook. Rosemary is 11, sweet, and a Girl Scout. In the middle is Gentian, 13, an aspiring astronomer. The family, complete with two educated, middle-class parents and a slew of cats, lives in a three-story Victorian home in Minnesota.
Most important to Gentian are the nights of star-gazing in her unheated dome; parties and sleepovers with The Giant Ants, a tightly knit group of girlfriends; her cat Maria Mitchell, named for the first woman astronomer; and sneak peeks into her sister Juniper's diary.
At the beginning of the school year, an ugly, modern, one-story red house springs up on the vacant lot where Gentian's family and the neighboring Zimmermans used to grow vegetables. To Gentian, the house appears practically overnight, while to others, months pass before it's finished. Immaculately and invisibly maintained, its only occupants appear to be Dominic Hardy, a handsome, mysterious boy who speaks in riddles and quotations, and his nondescript mother. Soon after the odd boy's arrival, Gentian's telescope develops a strange quirk; sometimes it shows her the heavens, as it should, but sometimes, impossibly, it shows Dominic's house.
Dominic approaches the sisters for help; he wants to build a time machine in Gentian's attic. Naturally curious, the girls agree. Then, to Gentian's annoyance, he drops the subject. Although her life continues as usual, Gentian's thoughts become increasingly tangled up in the riddle of who Dominic really is, which sister he's truly interested in and her misbehaving telescope. Finally, just as the holidays are over and school is about to start, Dominic is ready to build his time machine.
The three sisters eagerly lug heavy boxes of fossils, antiques and bizarre equipment up to the attic and the project begins. Soon their days are consumed with the time machine and the ever-growing clutter of objects and electrical appliances. Gentian gradually forgets about The Giant Ants and her upcoming performance with them in a Shakespearean play; her cat; even her beloved telescope. And it's up to her to extricate herself from Dominic's web of mystery, magic and riddles.
Dean deftly blends the old and the new, balancing an old-fashioned family living in an antique house with modern elements such as Goosebumps, Burger King and e-mail. As with her previous novels, it proves to be an entertaining and likable feast for the mind; it's the kind of book that one will want to read again to come away with deeper insights and new understandings.
As in Dean's highly-praised novel, Tam Lin, the pace is slow and the story seemingly character-driven rather than plot-driven. For those used to and appreciative of this style of Dean's, it shouldn't present a problem. The slow pace allows for plenty of attention to detail and character building. Some may feel, though, that there's too much attention given to the inner workings of Gentian's mind and her daily schedule and not enough to the mystery of Dominic. As the novel nears the end, the reader might become frustrated, like Gentian, over wondering if the mystery will ever be solved.
Gentian, her sisters and their friends are endearingly human, and Dean takes her time in rounding them out with realistic quirks, rituals and mannerisms. The girls are almost unrealistically precocious and well-read, but it's still easy to believe in them; and theirs is the kind of world Dean likes to create and one in which readers enjoy spending time.
It's not always easy to believe in the girls' parents and their apparent contentness to remain in the background. In the end, they're actually more involved than Gentian or even the reader realizes. However, one might be left thinking that they were almost too permissive and relaxed about their daughter's fate.
Gentian, using her astronomical training, likes looking at things out of the corner of her eye, knowing that the way to properly see them is to not look at them directly. In a way, that is how the reader must approach the the resolution of this story, which is powerful, unexpected and thought-provoking. It may be to some confusing and unclear; Dean could have drawn out and explained more clearly the resolution, which the reader has waited the entire book for. Maybe it wasn't supposed to be more clear, maybe that was the point. Still, it's a fitting, dramatic ending to a beautiful book, and worth the wait. 
(Tor Books, 1998)
[Editors Note: The reviewer notes that the character Dominic makes several references throughout the novel to the ballad it was inspired by Child Ballad # 1, "Riddles Wisely Expounded"]