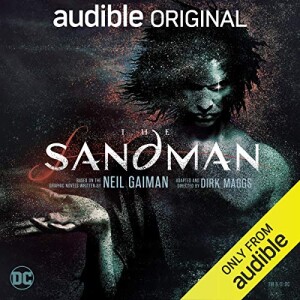 It's hard work to adapt the Sandman graphic series to another medium, but I'll say that Audible, with the participation of the author as the narrator, has done it most excellently. It's a full cast production with the usual exceedingly high production value that I've come to expect from Audible. This is the second Gaiman audio-drama that I've listened to lately as I experienced the recent BBC production of Neverwhere, which I highly recommend. And I recommend this as well, as long as you've got a strong stomach, as this is a dark fantasy with more than a touch of horror.
Gaiman is also serving as creative director and executive producer for this adaptation, while Dirk Maggs, who produced BBC's The Hitchhiker's Guide to the Galaxy series, serves here as executive producer, scriptwriter, and director.
Like Neverwhere, this is more like a movie and far less like a reading. First person narratives are fine as single person narratives, but Sandman is much, much more than that. It's a nightmare walking and Audible has indeed made the story every bit as scary as it should be. It makes a perfect All Hallows Eve tale for these evenings of socially distanced existence.
No, I'm not telling you anything about the tale as I'm assuming that you're here because you know about Sandman already. If you do, you'll be very pleased to hear that Gaiman has created here a version that's familiar indeed, with his Eternal Deities, be they Dreaming or Death, plus the minor characters like Cain and Able, John Constantine and Hob Gadling. There's everything here, including scenes set in The House of Mystery and Arkham Asylum. And this is set in the DC Universe, so expect characters from there to appear as well.
I'd be remiss not to note the excellent original musical score by British Academy Award winner James Hannigan, who did the same work on the BBC Neverwhere series. He also was a composer on some of the Harry Potter and Lord of The Rings films too.
Let's list the primary cast: James McAvoy, who played Richard Mayhew in Neverwhere, is Morpheus, John MacMillan is the African Morpheus, Kat Dennings is Death, Taron Egerton plays John Constantine most excellently, Riz Ahmed is here as The Corinthian, Samantha Morton is Urania Blackwell, Bebe Neuwirth is The Siamese Cat, Andy Serkis is Matthew and Michael Sheen is Lucifer Morningstar. There's also a number of other voice actors, all doing a great job here. There's even a Who alumn here — Arthur Darvill as William Shakespeare! Two if you count Joanna Lumley as Lady Johanna Constantine. Bonus points for figuring her Who connection.
All in all, it is superbly produced with an amazing sound design, nicely crafted music and superb performances throughout. Sandman is a perfect dark fantasy with appropriate touches of horror. I'll listen to it every year at this time.
(Audible, 2020)