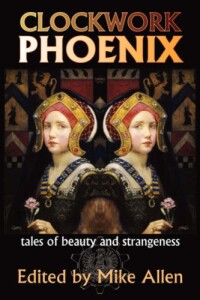 Deborah J. Brannon wrote this review.
The subtitle featured on the cover of Clockwork Phoenix is "tales of beauty and strangeness" and, with Mike Allen's introduction, he immediately attemps to deliver on this promise. Readers are treated to an extended metaphor – a brief sketch of a literal Clockwork Phoenix and its searing flight through a strange and moving train – meant to prepare us for the contents and the journey this collection represents. This introduction comes across with mixed results: I prefer my introductions to be less abstract and with more relevant introspection. However, if you prefer to look at the anthology as a structure, I'm not sure what more appropriate foyer the architect could have afforded visitors.
The mixed results of the introduction are, in a way, perfectly representative of a collection of stories that is mixed in quality. Some of the worst stories were what should have been front-runners – witness Catherynne M. Valente's "The City of Blind Delight" and John Grant's "All the Little Gods We Are" – while some of the best stories turned out to be by relative unknowns, such as Erin Hoffman's "Root and Vein" and Michael J. DeLuca's "The Tarrying Messenger." Instead of trying to group these into sections according to their perceived quality, however, the best way to examine this anthology is surely to follow it through in its arranged order.
Valente's "The City of Blind Delight" opens up the anthology, chronicling the surreal tale of a man who catches a train perhaps not meant for him and stumbles into a city of mounting bizarreness. In that city, he finds a train station made of living acrobats, streets of bread and a river of brandy, and a guide who may take something from him rather than show him the way out. The premise of exploring this strange city that occupies the interstices of reality has promise, but ultimately misses its mark with the author's reliance on overblown prose and painfully contorted metaphors.
"Old Foss is the Name of His Cat," by David Sandner, is an improvement over the first story. Inspired by "The Jumblies," a classic nursery rhyme by Edward Lear, Sandner treats us to the story of a man who has lost his Jumbly love as told through the perspective of his exasperated cat. It sounds surreal and is, but it also succeeds as a meditation on forms of consciousness, the acknowledgement of the unreal, and the ignoring of painful truths.
Unfortunately, the next up is another step back in quality: "All the Little Gods We Are" by John Grant is, to tell it simply, about a phone call to a different universe and a lot of emotional baggage for which we are treated to extensive back story (although that back story has a deception of its own). It begins as a curiosity, but doesn't offer enough to carry it through its length and closes as a bore.
Cat Rambo's "The Dew Drop Coffee Lounge" is a compellingly written and very cute story of an avatar of mercy and consolation to victims of broken blind dates. While it may end up dated due to some pop culture references, it is a charming and entertaining story.
"Bell, Book, and Candle," by Leah Bobet, is a brutally absorbing depiction of the anthropomorphic personifications of the title instruments. What would you imagine their lives to be like, if these key instruments of excommunication were flesh and blood? I'm terribly fond of stories that humanize archetypes well, and this story succeeds painfully and delightfully.
"The Tarrying Messenger," the story of a young woman biking across the United States, didn't grab me as easily as the one other story I've read by Michael J. DeLuca – "The Utter Proximity of God," a beautiful piece from Interfictions: An Anthology of Interstitial Writing. Less lyrical than that piece, this story reveals its own rhythm and proves as affecting a story in the end: it manifests as an act of burning muddied ideas away to reveal clarity in the bright crucible of the desert.
I'm not entirely sure that Laird Barron's "The Occultation" made sense, but it had an amazing way with atmosphere. In fact, the atmosphere in this story of a couple creeping themselves out over the nothing in the dark that might actually just be something in the dark is so skillfully handled that it resulted in me being creeped out. In a nicely lit room.
Ekaterina Sedia's "There Is a Monster Under Helen's Bed" is a bleak little story that can't seem to make up its mind whether its a cross-cultural examination and harsh meditation on adoption or a story of real monsters and deathly wonders. Due to this narrative confusion, I can't say whether the story succeeds … unless it was meant to inspire mild depression, in which case it did just fine.
"Palisade" by Cat Sparks grabs you from the start, sketching out a decadent planet and the human-maintained palisade that can stand against it. Of course, a name like "Palisade" begs the question of what can bring said wall down. The demented, encroaching natural fauna of the surrounding jungle? Or the morally bankrupt corruption within the walls? While the story provides a fun ride, reflecting on that question reveals some holes in the story I wish I hadn't noticed.
In Tanith Lee's "The Woman," the premise of human civilization dwindling thanks to a lack of women, and hence the ability to propagate, provides an intriguing framework on which to build a story of the desperate aging of humanity – of men who have but one woman left to them. The story Lee spins is intriguing and vital and sad, but ultimately not as engaging as it could have been with more action and less exposition.
"A Mask of Flesh" is a slow tale, relying on its mystery – something it does very well. My lasting impressions of this piece by Marie Brennan are of a tight, fascinating, and gloriously straightforward revenge tale.
"Seven Scenes from Harrai's Sacred Mountain," by Jennifer Crow, is remarkable in its unremarkableness. Each vignette obviously captures flashes from a single life, all promintently featuring the mountain as provider, destroyer, inspiration, and fear. Although the piece is overly mysterious, with no plot, it works and invokes a powerful atmosphere.
Vandana Singh's "Oblivion: A Journey" is just incredibly amazing. It's a fully immersive experience without being awkward, which can be a feat in a short story such as this one that relies on a fully developed alternate universe. Old myths inform new lives in this crazy and compelling narrative, and Singh's visual storytelling means I can easily imagine this story as a breathtaking graphic novel.
I found "Choosers of the Slain," by John C. Wright, to be an interesting little philosophical debate on the cusp of a major action. The power of the narrative is achieved through Wright's invocation of repetition.
"Akhila, Divided," by C. S. MacCath, suffers from uneven quality in prose and story details. I found some questions nagging at me regarding the setting that detracted from my suspension of disbelief and had a hard time buying some of the characterization. However, the core character Akhila just swept me away and her final resolution erased my reservations.
Joanna Galbraith's "The Moon-Keeper's Friend" suffers from an identity crisis, veering from fairy tale to social commentary to magical realism to parodic ludicrousness. While some of her language is lovely and the premise intriguing, this story ultimately falls flat.
Deborah Biancotti's story "The Tailor of Time" is one of the better stories in the collection. The narrative is straightforward, the prose well written, and it resolves as a delightful fairy tale with emotionally affecting depths. Here there be ruminations on the quality of time, the nature of creation, and the meaning of death.
Finally, we come to Erin Hoffman's "Root and Vein," a story about which I can say almost nothing without my hands waving about in awe and delight. This fable of a dryad and her heart is pefect, beautiful, and glorious. The glory of this one tale lends one a feeling of satisfaction and grace upon closing Clockwork Phoenix.
It seems that Mike Allen started with the worst stories and built this edifice into a dizzying and satisfying end. It was definitely an anthology that necessarily folded out over time, best consumed slowly and intermittently rather than quickly. There were enough excellent stories here that I'm sure to check out the second collection, due out in Summer 2009.
(Norilana Books, 2008)