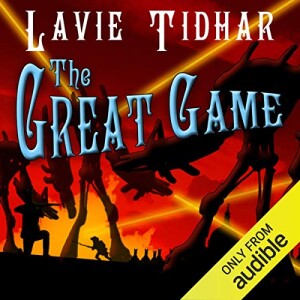 I've got a lot of audiobooks in my Audible library as it's been my primary source for such matters for many years now, so sometimes I forget if I've listened to one of them. This is how I came to be listening recently to Lavie Tidhar's The Great Game, a genre stretching thriller that's set, I think, at the end of the Nineteenth Century in an alternate universe that's a riff off various literary works in our universe. Think Allan Moore's The League of Extraordinary Gentlemen as an apt comparison. It was a wonderful listen.
Lavie Tidar's one of those writer who's always a reliable source for an interesting story. I'm reasonably sure the last thing by him that I experienced was Central Station, his take on the space bound beanstalks that was certainly interesting. While that could've been set in our future, this certainly is not set in our past.
Smith, the central character here, is an agent, primarily an assassin, for the British Empire, which is ruled by the Lizardines. Yes, there is a most bizarre conspiracy theory in our universe that Queen Elizabeth and the entire Royal Family are extraterrestrial reptiles! The Lizardine Empire is under dire threat: when senior governmental adviser Mycroft Holmes is murdered in London, it is up to retired shadow executive Smith to track down his killer, as Holmes' death is but the first of many similar deaths. In doing so, Smith will become immersed in the greatest conspiracy of his life.
Though this is the third and final novel in the Bookman Chronicles series, as the central characters change again from the first two books, this can well be read as a standalone, as the events of the first two books are reiterated if you've not read them. Just think of all the pulp tropes that you've read from those Lizards to automatons with their Babbage cores to the Great Beekeeper and Martian war machines all delightfully mixed together in The Great Game. l frankly admit that you're better off  if you're  deeply versed in all things pulp, as Tidhar gleefully uses them in ways that only vaguely give you a clue to who they are sometimes, i.e. there's a spymaster called just Fogg who I assume to be a riff off of Phineas Fogg. And then there's Irene Adler, Chief of Scotland Yard…
its a wonderfully fun novel that I need not detail here. I'll just note in conclusion that narrator, Johnathan Keeble, does a masterful job of bringing this tale to life. Kudos to Audible Studios for producing this wonderful endeavor! It is, as I mentioned above, the last novel of the Bookman trilogy.  Do start with the first book, The Bookman, as it's an amazing story told over the three novels.
(Audible Studios, 2012)