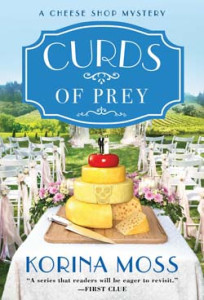 Korina Moss's Curds of Prey is the third in her Cheese Shop Mystery series. Given the rave reviews the earliest installement got, this book has a lot to live up to. While on again off again romances, distant brushes with danger, and a good old fashioned murder are all standard to the genre, it is the execution that keeps a reader going.
Willa Bauer returns as the entrepreneurial cheese shop owner desperately working to keep her business going among a strange circle of friends and unlikely happenings. Starting at a wedding, the problems of this story quickly increase as the lead's romantic interest gets in a fight with the husband to be, who dies shortly after.
At this point Roman, the aforementioned romantic interest, disappears for long stretches of the story while he's a suspect and makes room for the suspiciously well treated officer Heath to get more front time. While featuring the police in a story about an amateur detective is more than understandable, there is a hint of potential tension between him and Willa.
Class plays a certain role in this story, not deeply investigated but certainly and noticeably present. Willa is at the wedding, one which includes some of the wealthiest people in town, because her business has been hired as part of catering. The fact she is a relatively new business owner is brought up repeatedly, and used as a weapon against the woman a number of times. Indeed in chapter 33 one suspect makes clear that "'controlling what readers hear about each business is a big responsibility'" in a manner that can only be seen as a threat. This affects our heroin enough that in the next chapter she even makes the decision to give up on the investigation because she couldn't "chance taking that all away" from not only herself but those who depend upon her. It is a clever use of a economic threat, as opposed to a physical one that illustrates the difference between worrying strictly about one's own life versus one's livelihood and loved ones.
The cheese shop theme is not built so heavily into the plot it couldn't be extricated, butthe use of cheese in general and the business as well are quite nice within the narrative. What's more, the returning characters from previous books continue to maintain the narrative voice of the volume as a whole, without ever quite locking the reader out if they're not familiar with past books. It's a delicate balance that any series, and particularly those trying to fit into the cozy mystery arena, have to make. It is also an example of a strength of writing that wouldn't appear in the first volume in a series, helping to mark out Korina Moss as a talent in ways her first volume Cheddar Off Dead couldn't possibly achieve. 
Overall I would definitely recommend Curds of Prey to fans of the series. While it would be better for most readers to start with the first book in the series, there is also nothing stopping them from picking this book up directly and understanding and enjoying it. There is a fun mystery, some clever storytelling, and that comfortable sense of danger that anyone who's watched a good episode of "Murder, She Wrote" will be familiar with.

(St Martins Paperback, 2023)