I was going to wait 'til Green Man had received its review copy of the forthcoming Rough Guide to Irish Music. But I decided that comparing these two books, which cover all Celtic music, and that book, which will cover "just" Irish music, would be roughly equivalent to comparing English country dancing and American contradancing – entertaining but not terribly useful. So what I have is two books purporting to tell you, the person with a strong interest in Celtic music, what you should be listening to. I'm assuming that you already know a lot more than the average punter about Celtic, so I won't bore you with stating what Celtic music is, or why it's so hot right now. Methinks that what you want to know is how good these two guides are at suggesting what there is out there for Celtic music that you wouldn't know existed.
First, a word of caution. Neither of these guides will help find anything as unique as the Nettles, Poor Man's Fortune, the Mollys, Rodger the Badger, or Drones & Bellows – all groups that Green Man has raved about, but which, alas, aren't in these volumes. These guides are clearly based on commercially available recordings that one can reasonably expect to find with relative ease. For the truly rare stuff, you'll need to read us faithfully!
Kenny Mathiesen's Celtic Music: Third Ear: The Essential Listening Companion is published by Backbeat Books, the firm formerly known as Miller Freeman. The Third Ear Essential Listening Companions are a series of slim – less than two hundred pages – but informative volumes covering everything from bebop to jazz, and even alt-rock. (And I thought all rock was an alternative to older musical forms like jazz and blues … I guess my age is showing in that comment!) The editor, on his Web site, says, "I am a writer who writes about music, rather than a musician who likes to write. I lack both the aptitude and the application to really master an instrument, while the touring musician's life style would not suit me in the slightest. In that sense, I have no axes to grind or unfulfilled ambitions – right from when I was a small kid, I wanted to be a writer of some description, and to not only write for a living, but to write about music for a living, seems like the best of all possible worlds." This is the first time I've heard of him, but this guide shows him to be a bleedin' good editor. He's put together a crack group of writers: himself, author of, among other works, Giant Steps: Bebop and The Creators of Modern Jazz, 1945-64; Andrew Cronshaw, musician and frequent fRoots contributor; Jim Gilchrist, Scottish small pipes player and editor of The Lowland & Border Pipes Society; Sue Wilson, Scottish freelance arts journalist and co-editor of The Rough Guide to World Music; and Stephen Winick, frequent Dirty Linen contributor and arguably the foremost expert on contemporary Breton Celtic music.
As befits a book called "The Essential Listening Companion," the intent here is to assist you in finding new music to listen to. After a mercifully brief introduction, the heart of the guide is chapter-long looks at six Celtic traditions: Ireland (Mathiesen), Scotland (Gilchrist), Wales, Isle of Man and England (Mathiesen), Cape Breton (Mathiesen), Brittany (Winick), and Celtic Iberia (Cronshaw). Wilson contributes the final chapter, "New Directions."
Now the question for me in reading this guide was, did I learn anything that I didn't already know. And the answer was yes! Each of these chapters is simply the best introduction to that genre of Celtic music that I've encountered in print, period. Not that I didn't have quibbles on some of the judgements rendered herein: for instance, Gilchrist obviously loves the original incarnation of the Old Blind Dogs more than the current lineup, but I like the FHL (faster harder louder) sound of the present band, which now has pipes as part of its instrumentation. But this is certainly no worse than the arguments me and my bandmates have in a pub while quaffing a few pints of stout as we discuss Celtic music! No two persons will agree on why that band is good, or why this band sucks eggs, so it's not surprising that not all of her choices were what I would've made.
What you get is an intelligent discussion of the current music scene in a given region, and a reasonably detailed look at the history of traditional Celtic music. All of the writers have done a very good job of explaining the music of a given Celtic "nation." For my money, the most eye-opening chapter was Steve Winick's on contemporary Breton Celtic music, which appears to be based on his article "Breton Music, Breton Identity, and Alan Stivell's Again." Certainly the other chapters are just as useful in their thoroughness. I can't find anything to quibble about in this guide – even the layout's superb! Celtic Music: Third Ear: The Essential Listening Companion is essential reading for anyone interested in Celtic music.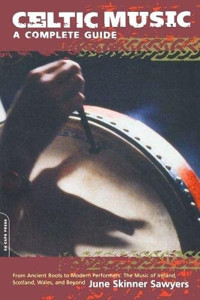 June Skinner Sawyers's Celtic Music: A Complete Guide is another kettle of fish altogether. If Celtic Music: Third Ear is fish 'n' chips served with vineger and salt, this guide's more like lobster pie with lots of clotted cream – tasty but a little too fancy for its own good! Think academic and you'll get the idea of her approach to the matter at hand. It's not a question of whether she knows the material – she's a native of Glasgow, Scotland, an editor and freelance writer, resident expert in Celtic music for the Newberry Library in Chicago, and a frequent contributor to the Chicago Tribune – but rather her approach. Bleedin' hell, it's so thick that I was scratching my head to figure out what she was sayin'. And she couldn't stay on subject to save her soul. As the PR on the Da Capo Web site notes, "Celtic music is much more than reels, jigs, and sentimental ballads; it is also unaccompanied singing, feverish fiddle tunes, the sweet strains of the Irish uileann pipes. It comes not just from Ireland and Scotland but from Wales, Brittany, the Isle of Man, and Cornwall. It informs the musical roots of Van Morrison and U2, the performances of Riverdance, and the scores for such films as Braveheart and Titanic." But how the hell does one justify including John Gay's The Beggar's Opera, the Eurythmics (whom she calls Celtic rockers!), Jack Bruce, Dexys Midnight Runners, and scores of others who are ethnically Celtic but definitely not Celtic as regards their music?
Speaking of Celtic rockers, she doesn't mention Tempest. Surely Leif Sorbye and company rate mention in any examination of Celtic rock. Nor do Brother or Seven Nations get any mention! Mayhap she really doesn't like Celtic rock. The Third Ear guide doesn't mention them either, but the approach there is much more traditional, so American Celtic rock music is not discussed at all. This book has a useful but problematic feature: it lists Celtic festivals and publications, record outlets, record labels, and Celtic music schools. All of this dates rather quickly, and is better off as a web-based affair. And a boo to her for not mentioning the carnyx! See my CD review of The Kilmartin Sessions: The Sounds of Ancient Scotland for a look at this ancient Celtic instrument.
So, like the lobster pie mentioned before, 'tis indeed a rich and rather overwhelming affair presented here. If you're looking for a complex, detailed telling of Celtic music from the beginning of time to the present day, get this book. If you want to have a guide for purchasing Celtic music you haven't heard of, rush out now and purchase Celtic Music: Third Ear: The Essential Listening Companion.
(Backbeat Books, 2001)
(Da Capo Press, 2001)