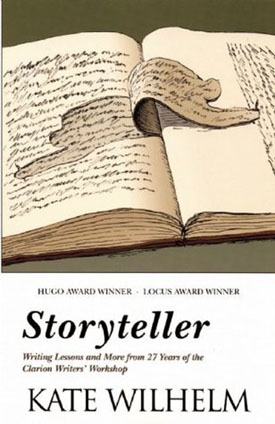 I was prepared to like this book just because of the publisher's name — and, of course, the fact that it is by Kate Wilhelm, one of science fiction's legends: aside from the quality of her stories, in the 1950s and 60s she was one of the two or three women of note in a field dominated by men. Being a writer-working-on-being-a-novelist, I am particularly drawn to books about the craft of writing, and to have one about the Clarion Writers' Workshop drop into my lap was an unlooked-for gift.
Clarion occupies its own place in the legends of science fiction and fantasy — the number of writers who have passed through it as students, or attended as teachers, is immense, and these are not just "writers" — these are writers of science fiction and fantasy who are among the first rank no matter which way you cut it: Octavia Butler, Glen Cook, Vonda McIntyre, Kim Stanley Robinson, Nina Kiriki Hoffman are just some of the students. The teachers were, if possible, even more formidable: Wilhelm, Damon Knight (her husband), Harlan Ellison, Fritz Leiber, Judith Merrill, with cameos by people like Algis Budrys, who was visiting for the weekend and stayed for a class.
One thing that you don't hear much about from teachers is how they learned to teach. Wilhelm is quite honest about the fact that when she and Knight began teaching the workshops, they had no idea what they were doing. She makes their learning process part of the reader's learning process, picking out the things that didn't work in such a way that we begin to see them as lessons in themselves.
It's been a long time since I've read anything by Wilhelm, which is my fault. She's a seductive writer. This is part memoir, part "how-to book," but the "how-tos" are firmly embedded in the story of Clarion from its beginning to the mid-1990s, when Knight's health would no longer permit him to teach. It's a fond reminiscence, with full weight given both to the workshops and critiques, which were grueling, high-pressure, no-punches-pulled exercises meant to take talent and make it marketable, and to the pranks and parties — water-gun fights, impromptu parades, guerilla theater in the cafeteria — that led to one dorm leader after another refusing to have the workshop participants in that dorm ever again.
There seem to be two kinds of writing books: those about the writing life, such as Betsy Lerner's The Forest for the Trees, and the real tricks-of-the-trade books, for example David Gerrold's World's of Wonder. Wilhelm has somehow managed to do both, with the lessons and pointers seamlessly incorporated into the history. Fortunately, she recaps the actual lessons in the last chapter: a handy checklist of dos, don'ts, and exercises. And she gives us a somewhat broader view of the writing process than others I've run across. I was immensely cheered to discover that the kind of stories I tend to write actually do have a name, and no, lacking a plot does not mean that they're worthless: Wilhelm discusses stories of revelation, in which the "Aha!" moment happens not in the protagonist, but in the reader. It was also more than a little reassuring to learn that I don't have to start at the beginning, I just have to start somewhere and then build around that.
For such a short book — just barely 192 pages — there is a lot here, and a lot that I've never found in other writing books, and it's all on-point. It's also delivered as part of the story of one of the most significant institutions in the history of science fiction and fantasy, as told by a true storyteller.
(Small Beer Press, 2005)