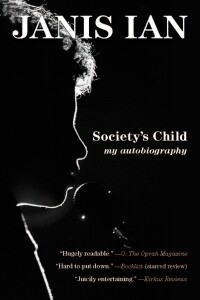 Normally here at the Green Man building we keep books and CDs separate. Oh sure, in every editor's office the shelves are filled with both, and down in the jungle where the writers dwell the floors are littered with CDs in cases, out of cases, DVDs, magazines, and stacks of books. But for review purposes, we do try to look at them separately. In some cases though, that is simply not possible. Sometimes two projects are so closely linked that they must be seen as a unit. And that is surely the case with two new projects from singer-songwriter Janis Ian: An autobiography and a collection of songs spanning the same years covered in print.
The book is titled Society's Child after Ian's first groundbreaking single, released way back in 1967, the year of love. Ian's song dealt with an inter-racial romance, and the disapproval from parents and society the followed.
Come to my door, baby,
Face is clean and shining black as night.
My mother went to answer you know
That you looked so fine.
Now I could understand your tears and your shame,
She called you "boy" instead of your name.
When she wouldn't let you inside,
When she turned and said
"But honey, he's not our kind."
She says
I can't see you any more, baby,
Can't see you anymore.

One of these days I'm gonna stop my listening
Gonna raise my head up high.
One of these days I'm gonna raise up my glistening wings and fly.
But that day will have to wait for a while.
Baby I'm only society's child.
When we're older things may change,
But for now this is the way, they must remain.
I say I can't see you anymore baby,
Can't see you anymore.
No, I don't want to see you anymore, baby.
Pretty advanced for a 15 year old kid from New York, but then, as she describes in the book, she always was precocious, gifted in fact. Even Leonard Bernstein recognized her gifts when he featured her on the television program "Inside Pop: the Rock Revolution." Alongside Brian Wilson, Tim Buckley and Herman's Hermits, there she was. I recall the first broadcast well. In those days any rock music that made it to television was special. Radio stations refused to play her song, she was booed in concerts, and the tune became a cause celebre. Now forty years later, it carries new resonance.
She was born Janis Fink into a left-leaning family of Russian immigrants. Her father was a teacher, and a good one, but he was watched by the FBI for his "communist" sympathies. It was the McCarthy era. This ongoing harassment meant that Mr. Fink never received tenure and the family moved from school to school every two years. The family needed dental work, so they went to an office where the payment schedule was "friendly." Little did her parents realize that their young daughter was being regularly molested by the dentist. Ian's memory of this is creepy, punctuated by her own "Yucks." She started playing the piano at age 2, after watching her father play. Before long she was correcting his playing. She gave up the piano for the guitar, because of its sensual connection to the player. She began writing songs when she was twelve. When she was eighteen she took a three year break from music, thinking maybe she would just become a veterinarian. But it was not to be. She had too much music inside her. In 1973 she released "Stars," and in '75 had a worldwide hit with "At Seventeen," which received five Grammy nominations. In 1983 she took another break from music, this one for nine years. She studied acting, married, divorced, and went through any number of tragedies, both large and small. When she came back to the music world it was with "Breaking Silence" and another Grammy nomination, in 1992.
All of these events, and more, are detailed in Ian's book. And they are marked, usually, with a song, or set of songs, which would then become the next album. Her prose is every bit as good as her lyrics, and the book reads like a long chat with Ms. Ian. Her tone is warm and friendly, even as she confides some of the more horrific parts of her life. The songs that she talks about are all included on the hand-picked anthology she calls The Autobiography Collection.
The two disc set is packaged in a foldout cardboard sleeve, with the same cover photo as the book (black and white for the book, colour for the CD) and contains all the songs she discusses. They are presented in non-chronological order, but the order makes sense as you read — they're chapter titles! Disc one starts with her first song, "Hair of Spun Gold," which is then followed by a song from 2000. It is "God and the FBI" which follows the narrative of her father and his nemesis. Then "Silly Habits," the first big hit "Society's Child," and on it goes. The songs are folky, all acoustic guitar and Ian's wonderful voice, the voice that caused Ella Fitzgerald to call her "the best young singer in America today." OK, there are other instruments, piano, even some electric guitars, but you get the idea. There are songs here from each of Ian's eras, songs that you may never have heard, but songs that will speak to you, cause you to think, to laugh, even to cry.
The book is definitely worth a read if you care about American song, or the social history of the past fifty years. The CDs amplify the text, but stand on their own as a masterful collection of songs. Together Society's Child and The Autobiography Collection provide entertainment, instruction, and serve as a reminder that Janis Ian is still with us, still writing, still singing, still pushing the envelope, just as she did when she was only 2 years old.
Janis Ian can be found online here.
(Tarcher/Penguin, 2008)
(Rude Girl Records, 2008)