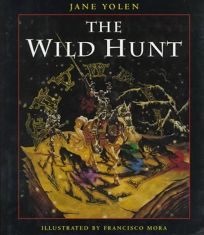 Jo Morrison wrote this review for Folk Tales a long time ago.
Folk legend merges with Jane Yolen's creative world to create a work of pure magic in The Wild Hunt, which should be destined to become a classic in the world of children's literature. Pitting the forces of light and dark against one another is a common theme, but it is rare for those forces to acknowledge the other as essential to their own existence, as done in this delightful tale. Yolen's use of time and words have woven a masterpiece from the ancient threads of an old tale together with the modern threads of something totally new and different. The resulting tapestry is beautiful to behold.
I have always admired Jane Yolen's writing for her exquisite choice of words. Each word, each turn of phrase, each paragraph is so carefully chosen, so perfectly crafted, as to carry you on a gentle breeze into a fantasy world you've never known. You never lose that sense of fantasy, but you still get caught up in the story, wrapped in a gauze of shimmering brightness that takes you to a whole new place. This book cries out to be read aloud, allowing the reader to savor the taste of each word in their mouth, as the listener delights in the sounds that come forth.
Yolen also has extreme talent in her ability to use big words, complex ideas, wonderful simile, and deep concepts, and yet present them so children and adults alike will take them in and appreciate them. The text is simple, yet complex; creating a rich landscape on which her characters cavort with ease as they explore the world. The story she presents here is ancient, yet new. The Wild Hunt is a common story of mythologies throughout Europe, with similar themes occurring in other culture's mythologies as well. Interpretations on the symbolism of the horned master riding through the forests, leading a pack of wild dogs and a tree-like figure vary. It is seen by some to be representing the changing of the seasons or the arrival of winter. Christian influences have added the interpretation of a cleansing of the bad from the good. In all interpretations, the main focus is on the chaos, the noise, the excitement, and the great fear such a spectacle evokes. It is an awe-inspiring and frightening scene, full of uncertainty. Yolen incorporates much of this mythos in her story, with the master leading a pack of hounds, while riding wildly on horseback. There is a sense of wild abandon within this image.
Yolen has held true to the tale, not by trying to explain it, but rather presenting it as a context for a simple story. It 's not the story that makes this book great, but rather the use of words, images, and setting that bring the tale to life. The story is about two young boys learning what it means to be a hero, and finding that it's not exactly what they expect. One's exuberance leads him into danger, the other's innocence is the characteristic that qualifies him to take on the hero's role, but leads him on a journey so strange and foreign that he finds it distasteful. Yolen's use of chapter, paragraph, and sentence help to build a whole story from a series of vignettes. This story takes place in a series of "almost" chapters, partitioned chapters that present the facets of a multi-location story in a new and refreshing way.
The evocative drawings of Francisco Mora complement the text perfectly. Dark and dramatic, they bring the tale to life. This beautifully packaged book would be at home on any bookshelf, be it a child's or an adult's. Buy the book, bring it home, and luxuriate in something fresh and different. Read it aloud to your child, your cousin, your special someone; anyone who canappreciate a sense of magic in a real world.
(HMH, 1995)