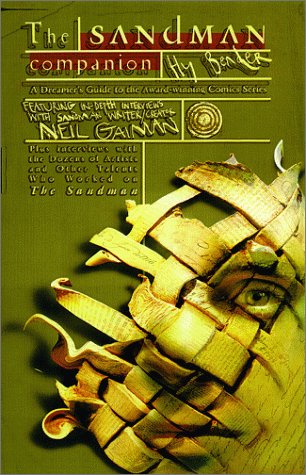 Lahri Bond wrote this review.
In December 1988 a comic book debuted, which would change the face of the medium forever. The comic did not feature a superhero in brightly colored costume, a la Batman or Spiderman, nor was it military, true romance, kiddie fun or Archie style teen antic-dotes. Instead, it centered on the character of Morpheus, the Sandman, guardian of dreams, prince of stories and part of a wonderfully dysfunctional family of ancient immortals that became known as the Endless. The stories ran from gothic horror to high fantasy to realistic fiction, with some of the most believable characters to be found in any medium.
The comic series ran monthly for seventy-six issues, was illustrated by the best comic book and fantasy illustrators in the field, and won every major comic and fantasy literature award that existed. Its sole author, Neil Gaiman, would go on to write fine collections of short stories, novels, and children's books, as well as television and movie scripts. Unique also is the fact that every issue of the comic has been collected, according to story cycle, into hard and softcover graphic novels that are all currently still in print.
Sandman fans are as varied as rock singer Tori Amos, speculative fiction author Harlan Ellison, filmmaker and sometime Monty Pythoner Terry Gilliam, and literary giant Norman Mailer.
If you have not read the series, you should start at the beginning, with the graphic novel Preludes and Nocturnes, which will either turn you off or make you an avid fan (there really does not seem to be any middle ground).
If you fall into the avid fan category, then The Sandman Companion is an essential supplement, or concordance, to the series. Gaiman's stories are thick with mythological characters and references from around the world. He also pays constant homage to his favorite authors, films and books, and he is a devil at hiding clues and foreshadows of future stories in earlier issues. Author Hy Bender is exhaustive in searching out these intricacies of Gaiman's work and does an excellent job of putting them all into context.
The book itself is masterfully written, first giving a brief but exacting synopsis of each story cycle, followed by a "Some Things Worth Noticing" section in which he ties together story and character threads. An in-depth interview with Gaiman himself follows in each chapter, where Bender's well-researched and thoughtful questions are answered by Gaiman with a tremendous amount of insight and wit. Not only are we seeing the behind-the-scenes work and thought that goes into making a major piece of fantasy literature, but we actually get a close-up view of the author's own writing process.
Supplementing all chapters are beautifully chosen sidebars consisting of interviews with the artists, inkers, colorists, letterers and editor of the series.
Since this book is about a very visual medium, rare illustrations, working sketches and character studies are also included. A color section is included, showing examples from the rare Sandman Tarot deck, as well as sculpture and Dave MacKean design cover art, making this a feast for Sandman fans everywhere.
(Vertigo Books/DC Comics, 1999)