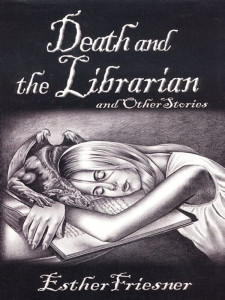 Guy Soffer wrote this review.
This book is a collection of twelve short fantasy stories all written in the '90s. Friesner has published this collection of stories, eleven of which have previously been published and one, "Ilion," is a new story about life in post-9/11 New York City.
Most of these stories are just under thirty pages each, and the author has arranged them in such a way that you won't have a problem reading them one after the other. Some of the stories contain modern American slang which disturbed me a little, and some stories are quite vague. If you do not read the introduction, you'll have no idea what the story is about, not that this is a bad thing …
Most of the stories are clearly about religion and this spices things up a bit. "All Vows" is all about religion, faith and vows presented in an unorthodox manner. "True Believer" is about a child who makes everything he believes in come true, which can lead to some unusual circumstances. " 'White!' said Fred" is about three men getting a wish each, and how they try to make the world a better place to live in. "A Birthday" is about the mother-daughter relationship, how deep it is, and what happens when you try to eliminate it. "A Pig's Tale" takes the pig from Wonderland into our world and watches what happens with interest. "Love, Crystal and Stone" is described by the author an homage to the great Spanish surrealist Federico Garcia Lorca. "In the Realm of Dragons" is all about how society treats homosexuals, with some dragon lore thrown in. "Jesus at the Bat" is about what happens when God decides to help a failing baseball team. "Chanoyu" is all about the Japanese and a solution to child birth problems. "How to Make Unicorn Pie" talks about life in a small town and the relationships between the residents. In "Death and the Librarian" Death comes in to take a librarian away, but something happens to make Death forswear his duties …
All these stories are rather unorthodox – this is by no means classic fantasy. Friesner is usually recognized as a humorous fantasy writer, but most of these stories made me want to cry. My recommendation: If you are looking for a different kind of fantasy story, this book is worth a try.
(Five Star, 2002)