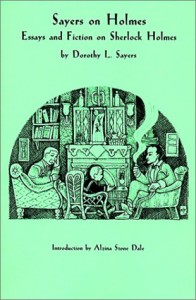 Irene Henry penned this review.
Myth? Legend? No, not really. For a certain segment of society, Sherlock Holmes is a real and living individual, not an iconic fictional character. For these blessed people, the study of the Canon (the published accounts of Sherlock Holmes' cases, compiled by Dr. John H. Watson and published by Watson's literary agent Arthur Conan Doyle) is a scholarly endeavor with the serious fervor alluded to by the religious term for the works. The people comprising the various Sherlockian groups, such as The Baker Street Irregulars in the United States and the Sherlock Holmes Society in Great Britain, vie with one another in sometimes viciously heated debate and scholarship to interpret the various events chronicled in the Canon. Their goal is to determine the actual history of Mr. Holmes from the references and clues established in the Canon and other supporting documents.
Dorothy L. Sayers was a founding member of both the Detection Club and the Sherlock Holmes Society, which was founded in London in 1934. She was at that time already established as an author of detective fiction, with Lord Peter Wimsey, her languid and aristocratic sleuth. However, Sayers, educated at Somerville College at Oxford University, was also a serious scholar at a time when most women were expected to live very different lives. She blended her interest, understanding and detective success with her scholarship in several brief essays originally published between 1928 and 1946.
These essays, as well as a transcription of an original radio play featuring a young Peter Death Bredon Wimsey and Sherlock Holmes, are reprinted in the slim volume by The Mythopoeic Press entitled Sayers on Holmes: Essays and Fiction on Sherlock Holmes. The essays are lovely examples of canonical scholarship and show Sayers' skill as a detective and a scholar (for what is a true research scholar but a detective) as well as her undoubted skill as an entertaining author.
The first essay, a brief discussion of the influence of Sherlock Holmes on detective fiction, is largely a comparison of Poe's Dupin stories with the Holmes works. This essay does not partake of the notion that the Holmes stories were nonfictional, but is a fairly standard work of literary criticism.
The second, "The Dates in the Red-Headed League," is an exercise in deductive logic supported by scholarly research. The problem Miss Sayers proposes to solve is that of determining the dates of the affair of the Red-Headed League. This she accomplishes by a clear and definite line of reasoning, wherein a fairly complicated timetable is clarified for the reader in a well-footnoted essay.
The essay "Holmes' College Career" outlines Miss Sayers' rationale for her statement that Sherlock Holmes attended Cambridge University. Her research reveals not only the college which the detective attended, but also his course of study, and a possible misprint of the detective's name in his Tripos Class List.
I was astonished to realize that Miss Sayers' essay "Dr. Watson's Christian Name" is the source for what I had "always known" — the actual name of Sherlock Holmes' companion and chronicler. This essay is one in which Miss Sayers takes her fellow Holmesian scholars to task for their incorrect assumptions and slipshod scholarship (only part of the fun!).
The final essay in this volume also examines the life of Dr. Watson. "Dr. Watson, Widower," tackles the puzzle of Dr. Watson's marriage(s). Miss Sayers refers in this essay to the then-new theory that Dr. Watson had married again after the death of his first wife Mary Morstan. She expands on this theory and theorizes in turn on the identity of Watson's wife and the date of the marriage. Of the five essays, this was the most difficult for me to follow without reference to the Canon proper, but it stands as another grand example of the history of Holmesian scholarship, with its acerbic commentary on the theories of other Society members.
The final work by Sayers in this volume has not appeared in print before. It is a transcription of a portion of a BBC Radio play "A Tribute to Sherlock Holmes on the Occasion of His 100th Birthday." Written and performed in 1954, it is titled in this volume as "A Young Lord Peter Consults Sherlock Holmes." In a charming continuation of the Sherlockian history, this is a reminiscence by Lord Peter Wimsey of his encounter with the elder detective, presented as a brief interview. This brief work was the last Wimsey story Miss Sayers completed.
The book closes with a valuable annotated bibliography of Dorothy L. Sayers' books, with an emphasis on Holmesian connections. This includes secondary works of scholarship of Holmesian significance.
These works were out of print for many years until The Mythopoeic Press, dedicated to the work of "the Inklings" and related authors, reprinted them in this slim paperbound volume. Alzina Stone Dale, a scholar and author of Maker and Craftsman: The Story of Dorothy L. Sayers, provides a thorough grounding in both Holmesian scholarship history as well as a brief biography of Miss Sayers, with emphasis on her connections with Sherlock Holmes. Devotees of either Holmes or Wimsey must thank Alzina Stone Dale and The Mythopoeic Press for this charming reprint. It allows us to experience Miss Sayers' scholarship and deduction again, while also allowing us to live for a moment in that land where Holmes and Wimsey are, indeed, real.
(The Mythopoeic Press, 2001)