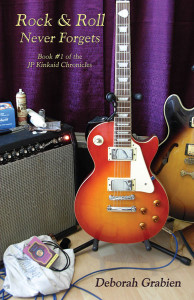 I have been hooked on Deb Grabien's novels since I had the great good fortune to read the first of her Haunted Ballads series. What pulled me in from the beginning was not only the characters and settings but also the amount of research in each book. Here was a writer who could bring the past, with its rich musical and social history, right up to the doorstep of the present, and also into the scary and ever-popular genre of ghost stories.
When I heard that Grabien was about to launch a new series involving both music and mystery, before ever reading an advance review copy of Rock and Roll Never Forgets, I was already on board, as reader and bookseller. Those two distinctions – reader and bookseller – are important in my overview of this most entertaining and interest-grabbing series. As a reader, I was in from the opening sentence: "Good Evening, Wembley!" And boom, there I was in a front row seat at rock and roll institution Blacklight's closing show in London.
Grabien doesn't miss a beat before Blacklight is playing New York's Madison Square Garden. In the opening chapters of Rock and Roll Never Forgets, readers are introduced to JP Kinkaid and he, in turn, introduces us to the other four members of the band, all aging rockers whose commitment to their music is only equaled by their commitment to each other. And deeply embedded in each of these books is the author's commitment to her readers.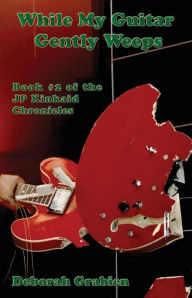 As a bookseller, I came to the Kinkaid series at the 2008 East Bay launch of Rock and Roll Never Forgets, but I only had one more year to market the book at the bookstore before retiring. I followed the lead from the dust jacket and sold it as a mystery. Ditto for the second book, While My Guitar Gently Weeps, also called "A JP Kinkaid Mystery." I retired in the nick of time because after that the series became "Book #4, 5, 6 and 7 of the JP Kinkaid Chronicles." Are they mysteries (murder and mayhem) or chronicles (narrative recording of events)?
The answer is "yes" and "yes." The First two are definitely mysteries: death by murder, clues to be uncovered, and an eventual revealing of "who done it." So, is our hero, guitarist Kinkaid, a sleuth as well as a musician? Definitely not a sleuth, at least not the private eye sort. Kinkaid is more of an involved narrator with most of the sleuthing performed by Patrick Ormand, an NYPD and then SFPD cop who is eventually (by Book of Days, #5 of the Chronicles) hired by Blacklight as their security chief.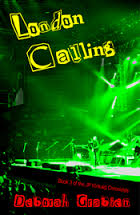 Now that I'm no longer working at a bookstore, I can sell the Chronicles, through my book review blog, as just about anything. The author has not only pushed the mystery envelope; she's gleefully tossed it out. All the Kinkaid books are novels first and then sort of mysteries – and then there are times, as in Graceland, Book #4, when the death is mercifully not declared a murder. Blacklight and its members sometimes can be found on the periphery of the killings, such as in Books #3, London Calling, and #5, Book of Days.
What all the Kinkaid Chronicles have in common is a cast of characters so well-developed that the reader may grow attached to a particular member of the band or their spouse, or their child or stepchild, or even (in JP's case) a remarkably wise and loyal mother-in-law. And although mayhem occurs at some point in each of the novels, so do a heck of a lot of other things. Grabien is a master at giving a musical instrument a starring role. It never ceases to amaze me how vividly and realistically each bit of information helps pull the reader intimately into the world of a touring rock band. And did I mention food? Kinkaid's long-time girlfriend-turned-wife Bree is a caterer, so when the band gets together at their San Francisco Painted Lady, whether for a full meal or
something lighter, the text is always delicious.
Wherever Blacklight plays, Grabien nails the description of each location, and even if the reader isn't familiar with that venue, he or she will recognize it in a minute. I was not prepared, when reading the first book in the series, to find that a successful touring rock band is more than musicians on a road trip. It's a multinational business venture, and if Blacklight is any example, it's no small potatoes. The logistical nightmares detailed in the Chronicles, from booking hotels to managing medical emergencies, give each of the stories a depth that strangely lifts them out of anything considered light reading.
All of the above being said, the strongest reason for admiring this series is Grabien's talent for giving us characters who struggle, grow and mature with each new tale. I don't think there's a two-dimensional character in any of the books. These musicians have been playing together for more than thirty years. If you know your rock history, you know they've somehow survived
in a profession that includes drugs of all sorts, risky sex, monstrous egos, and, with fame and wealth, a dangerous insulation from hundreds of ordinary, adult responsibilities. It's been decades since any member of Blacklight has had to balance a checkbook or book a hotel room. They now face the issues that come with aging, and they are all coming at long last to grapple with seriously growing up. Grabien's description of JP Kinkaid's multiple sclerosis, its effects on his career and his marriage, comes from her own personal battle with that disease. We read of death from cancer, disappointments in children, and caring for aging parents. For readers who have passed through those same years, the characters touch us deeply. Grabien has given them rich, full lives, both musical and personal. They may be older, and certainly wiser, but they sustain their intense familial and love relationships.
Grabien has given us two very remarkable and modern characters in JP and Bree. Their age doesn't mean that fame and wealth (especially after Book of Days) are still not things requiring a struggle. It is Grabien's fresh handling of this emotional growth that shines.
That hardships become turning points in their lives is not surprising, but how the accumulation of these hardships brings JP and Bree to an awareness of their importance to each other is rather unexpected and arrived at without cliches. The stories not only build something powerful for the characters, but they do as much for the readers who share JP and Bree's difficult journey.
By the time readers have finished Uncle John's Band, the distance traveled by JP and Bree becomes richly satisfying. Grabien reminds us again in Book #6 that she is in a class of her own when it comes to pulling the reader into the music of her stories. I may have given up piano lessons for horseback riding when I was a kid, but that doesn't mean Book #6 didn't engulf me in a fiery studio scene in which composition and lyrics were combustible.
While being driven across the Golden Gate Bridge in Uncle John's Band, JP looks around and remarks, "The Bay Area's got some serious geography; no matter what else is going on or going wrong, the views are always there." The same can be said for Deborah Grabien's JP Kinkaid Chronicles.
(One Plus Press, 2008 -2012)