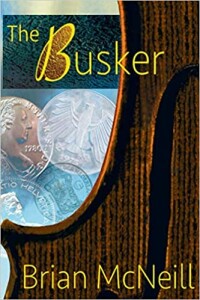 I really hate to pan this novel as Brian McNeill's a great musician, but I have to as he's a lousy fiction writer. I love his music – I have every one of his post-Batties albums, but this is not his forte. The Busker is the first of two novels by McNeill comprising the adventures of Busker and (as he notes on his Web site)  "reluctant fighter for justice, Alex Fraser."
In The Busker Alex, on the run from the law and in pursuit of the answers to a mystery that has its inception in a heinous Spanish Civil War depravity, has escaped from Northern Europe to his native Falkirk in lowland Scotland, where he's in search of some answers to this mystery. McNeill is at his very best when writing what he knows. For example, just read this extract from this novel:
There's a smell to a good pub in Scotland, a smell that can overcome all the sourness, the squalor that lives with the drink – thick, yeasty and warm as the beer itself, overlaid with the sharp tang of the last drops of the dram wrung lovingly into the pint.
Between the dark doorway and the partitioned horseshoe of the bar it enveloped me like a fog, and in the distance of four or five paces, I'd stepped back in time to a place where generation upon generation of Scottish manhood had held both its liquor and its tongue. The white-jacketed barman served me a pint and went back to his paper with a civil nod. I looked round the room. No garrulous winos or sullen barmaids here, just hard, steady drinkers. This was the place where John Knox's conscience drank on his night off. silent as the most Presbyterian of kirks, and ten times more pious.
Don't pick up this novel expecting to read about the life of a fiddle-playing busker as that's not what's here. Think Dick Francis writing about musicians instead of horses, and you'll get an idea of the quality of the prose here. It's terribly puzzling that respected papers like Bradford Telegraph And Argus can say that "… the prose is good and the first-person busking scenes give a real insight into the world of the street entertainer." Debbie Skolnik, in her review of To Answer The Peacock, the sequel to this novel, got it right when she said, "… I'm sorry to say I have a problem with the plot. It seems too fantastic, too contrived to be credible. Yes, I know it's fiction but it's not supposed to be fantasy, I don't think, and it feels more like that to me. McNeill's got a very creative imagination – I give him that – to be able to dream up this story, which I think would have worked better as a cinematic presentation rather than a book. Alex is a fascinating character, but there's a lot we don't know about him; his past is alluded to many times, but never fully explained." Her assessment of that novel is my assessment of this novel – it never really caught my interest.
You have villains with guns, lost children, kittens, and sexy women. You get descriptions of places both lovely and truly awful sounding. Alex gets in, out, and back into danger much, much more often than he busks. Did I mention there's a chase? A very long chase? All the way from a castle in Germany to the very remote – look them up – Frisian Islands? Hell, there's even a background for Alex that's straight out of The Fugitive, the American television series from the '60s.
All in all, this was not one of my better reads of recent times. Weirdly enough, I read To Answer the Peacock first and, despite an equally unbelievable plot, it was better written than this. Perhaps the final, yet to be published novel in this trilogy will tie everything together. If they wrapped The Fugitive series with a modicum of logic, McNeill can wrap his series in a tidy fashion too!
The bottom line is that I believe The Busker is a poorly written novel, but The Busker And The Devil's Only Daughter CD that is the companion to this novel is a brilliant piece of music that one should hear if one loves Scottish folk music. Let's just hope his novel writing doesn't get in the way of his music creation as that would be a pity!
(McDonald and Company, 1989)