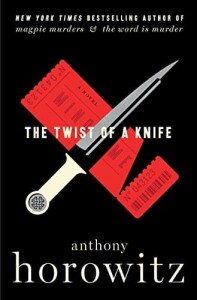 Anthony Horowitz's The Twist of a Knife is the latest of his books to feature Hawthorne, a moderately to severely disreputable detective who continually intrudes on a fictitious version of the author's life. Given that the lead had seemed reluctant at best to work with Hawthorne again as of the last book, this volume naturally starts with the two of them interacting and arguing about the matter.
 Shortly after a big event in the life of Anthony Horowitz begins. Specifically, a play called Mindgame which he wrote has moved up from smaller tours to a theater on the West End. Those even slightly familiar with the theatrical scene in the United Kingdom will understand that this was quite a big deal. The reader is introduced to the director and actors, all of them delightful characters one could believe find in a theatrical setting. A reader is likely to begin wondering which of them will die when Anthony Horowitz begins expressing horror on opening night at the presence of critics.
Harriet Throsby is the stereotypical theater critic for a major publication. She is sour, heavily opinionated, hateful, and delights in destroying Productions and torturing anyone involved in the creative process emotionally. She is aware of the work of the lead, treating it at best dismissively from the outset. This includes making a comment about all crime writing being rather boring. She quickly becomes the victim of a murder, to the surprise of no one who's familiar with theatrical murder mysteries. Or, one supposes, the impulses of some creatives to caustic critics.
Anthony Horowitz wakes up and is arrested for this, a gift he was given is the murder weapon and features as the book goes by his fingerprints and DNA upon it. Left in a desperate situation, he sees little alternative but to call upon Hawthorne for some help with the case. It's quite a solid setup, to say the least. While there are some cracks in the story, at least a few already obvious, there's also more than enough to Intrigue.
A nice and amusing paragraph happens very early on in which the author discusses with Hawthorne the difficulty of writing further crime and literary puns for titles. A number of hilarious and cheesy ones are included, only appropriate to the situation.
The biggest downside to the novel is, unfortunately, a major plot aspect. Anthony Horowitz is arrested for murder By a pair of disgruntled police officers from a previous volume in the series. While seeing vindictive cops is always believable, particularly in light of revelations coming forth every day, having the lead accused of murder as a major plot point is rarely wise. Unless a series is ending, it becomes a how-they-get-out-of-it instead of who-done-it or how-catch-em, and has a foregone conclusion. This is even more the case for this particular book than most series volumes, as Anthony Horowitz chose to make the lead a fictionalized version of himself. Given that Anthony Horowitz is, last I checked, still at large the idea he will be convicted as far-fetched. While such an element could be included in a book, possibly in some slightly more experimental or meta fictional piece, it wouldn't fit with the style of this series thus far.
By similar token more than in the other pieces, a clue to the guilty party exists early on when one character is mentioned as attached to a major film that was actually released in our world. Given he is not a real name, readers may find themselves suspicious as to the reason he is going to appear. They are wise to do so. That said there are a more than adequate number of other red herrings, and I can even see a motivated reader arguing that some would make bettet candidates.
The conceit of these being events which happened to the lead continues all the way through to the acknowledgments, which begin with references to a therapist that helped him work through issues from these events. It's a delightful little touch, the kind of thing one doesn't see enough in a book proporting to be fact. Of course the reference at the beginning that it is a work of fiction which is against this, however that is a comparatively small blurb people will fail to read.
Having given this book a slightly less than perfect rating, my first instinct is that Anthony Horowitz will kill me. Fortunately, I am not refusing to recommend it. Indeed while the lead being a murder suspect for the majority of the text is a relatively weak point, it rarely pushes the book beyond the bounds of reasonable enjoyment. The other aspects of the text are consistently delightful, from believably over the top characters to the delightful frustration of the lead. Fans of the series should definitely pick it up, and those looking for an entertaining murder mystery with a theatrical background would do well to do likewise.
(Harper 2022)