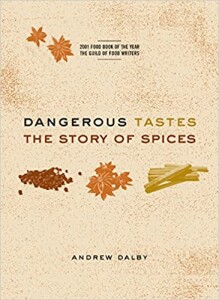 Faith J. Cormier wrote this review.
Heaven forbid I should ever judge a book by its title, but this one certainly can be. In Dangerous Tastes: The Story of Spices, Andrew Dalby does exactly what the title says he is going to do. He traces the origins of dozens of spices. Some are used daily all over the world, or in large portions of it. Some are common only in a limited area. A few that were used in the past cannot now be identified. At least one, silphium, is now extinct.
Dalby arranges his subjects geographically. The regions studied include the Arabian Peninsula, Sri Lanka, the Spice Islands and the New World. He traces ancient trade routes and agricultural experiments to show how the various spices moved from one region to another. He also discusses the linguistic problems presented by spices. Any honest person who translates the names of certain spices in ancient works has to admit that no one really knows for sure what is being referred to, but people keep guessing anyway.
This is definitely a work of scholarship, laced with quotations from ancient and modern sources. The discussion of the source texts Dalby used is three pages long, and he gives another three pages of bibliography. We also find a glossary of spices and exotic plants, pages and pages of endnotes, a general index and an index of recipes (anyone for conditum or sea-squirt?). There are also twenty-four pages of historical and geographical drawings, botanical sketches, portraits, photos of artifacts and other illustrations.
However solid Dalby's scholarship, his style is not in the least dull. He obviously isn't telling all the wild and gory stories he could about the spice trade, but the ones he does include are lively. He also tosses in an occasional personal aside.
Andrew Dalby is a linguist, a historian, an Honorary Fellow of the Institute of Linguists, and was at one time their Honorary Librarian. He has written quite a number of books, including: The Classical Cookbook, Food in the Ancient World A-Z, Siren Feasts: A History of Food and Gastronomy in Greece, Empire of Pleasures: Luxury and Indulgence in the Roman World, Bacchus, A Biography, Flavours of Byzantium, A Guide to World Language Dictionaries, A Dictionary of Languages, Language in Danger: How Language Loss Threatens Our Future. He has also published a translation of Cato On Farming.
Andrew Dalby does not seem to have a Web presence.
(University of California Press, 2000)