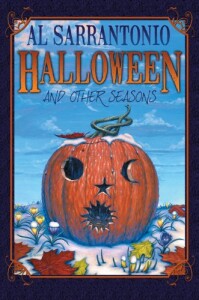 Halloween and Other Seasons collects eighteen stories previously published in such venues as Cemetery Dance Magazine, Asimov's, and (one of my favorite horror anthologies from last year) Midnight Premiere.
While Sarrantonio's stories range in style from science fiction Westerns to dark fantasy to a script for a manic Looney Toons-style cartoon, the theme that draws them all together is a preoccupation with the American dream gone wrong, whether it is the shattering of the myth of the Norman Rockwell childhood or the madness-inducing anxiety of dead-end jobs and broken marriages.
The collection begins with the truly stunning story "Summer," which starts off as a nostalgic tribute to the lost Eden of American boyhood. While it begins along the lines of Ray Bradbury's Something Wicked This Way Comes and Stephen King's "The Body," "Summer" diverges from these works to become something much, much darker in its final paragraphs.
"Eels" uses its setting to slowly insert a sense of disquiet into another trope of American boyhood, the father-son fishing trip, and "Sleepover" is another disturbing take on childhood traditions. Yet not all the children in this collection are victims, and "Roger In the Womb" is an amusing story about one child who is smart enough to see the writing on the wall, as it were.
Two of my favorite stories from the collection were Sarrantonio's SF Western stories, "Chromium Bandits," which tells the classic tale of the lawman left on his own to track a gang of killers through the desert, and "Liberty," in which the dream of freedom becomes a nightmare of fear and vengeance.
"The Artist in the Small Room Upstairs" is an SF story about a male muse living in a world where its inhabitants have lost their ability to create.
"The Pumpkin Boy" is the longest story in the collection, and bookends "Summer" as far as using the season and setting of the story to evoke the sense of dream-turned-nightmare as it tells the story of what happens during one small town's harvest celebration.
The collection of stories in Halloween and Other Seasons contain only one false note, "The Man In the Other Car." The author spends the entire story creating a fine sense of the uncanny only to abruptly cut the story off with a single-line ending which, I felt, was discordingly glibly violent considering the skill and plotting that Sarrantonio had up to that point invested in the story.
Halloween and Other Seasons can be purchased online at Cemetery Dance.
What makes Horror Isn't A Four-Letter Word stand out amongst a plethora of similar books aimed at aspiring writers is that Matthew Warner avoids many of the more esoteric questions, such as whether one needs an agent, and instead focuses on the kind of writing nuts and bolts that help writers hone their craft.
This collection of essays, originally appearing as a series of online articles for HorrorWorld, discusses such diverse aspects of writing as improving dialogue, using local settings and horror for inspiration, the connection between fairy tales and horror, and Warner's own brush with a group of "book doctors" early in his career.
Warner also writes about the importance of doing research, and shares some of the things he has learned about doing research for his own books, including schizophrenia and police procedures.
Warner's prose style is clear and humorous, and he uses lots of examples, as when he uses the television show "Buffy the Vampire Slayer" to illuminate how plot works and the appeal of providing truly addictive plot arcs that keep the readers caring about what happens next.
It's always a pleasure to read a well-written book on the subject of how fiction works, and Warner comes across as a writer with whom one might actually enjoy talking about writing. Warner is not one of those pretentious writers who makes things sound more complicated than they are, and he is not too proud to mention other writers and their books on writing or to illustrate a point by mentioning his own mistakes. In addition to the practical points about writing itself, he offers realistic advice on how writers can promote their work through various activities such as creating a Web site and finding opportunities for public speaking (his story about how he was conned into speaking to his future mother-in-law's grade school class was a humorous take on his own advice about how a speaker should suit his speech to his audience).
Horror Isn't a Four-Letter Word is a fine introduction to writing even for those who may not be fans of horror specifically, and I expect that it will remain one of those works I will be dipping into when I want a clear and concise quote regarding some aspect of writing.
To find out more about Horror Isn't a Four-Letter Word, visit Matthew Warner's website.
H. P. Lovecraft's essay Supernatural Horror In Literature has been one of my favorite critical writings on horror for years, and I have reread it often. The only thing that could have improved upon this classic work on horror is the annotations and introduction provided by editor S. T. Joshi, possibly the foremost commentator on all things Lovecraft. While Supernatural Horror In Literature was first published in 1927 and the annotated edition was published in 2000, this remains one of the dark jewels of books on horror, a must-read for any serious horror fan.
Long before Stephen King set out to write Danse Macabre to discuss his favorite horror themes, Lovecraft had created his own manifesto of required reading in the genre. Yet, this work is much more than a mere reading list, for it includes Lovecraft's own history of the horror tale, including its influence upon such works as Beowulf and Dante's Inferno. The sections of Lovecraft's extended essay are arranged in chronological order, and include sections on the Gothic novel, the Romantic poets, Edgar Allan Poe, and separate sections on the weird tradition in America and the British Isles.
Lovecraft's language is a treat in itself. While few writers could get away with the over-the-top prose style nowadays, there is something delightfully theatrical about descriptions such as the following:
Horror in literature attains a new malignity in the work of Matthew Gregory Lewis (1775-1818), whose novel The Monk (1796) achieved marvellous popularity and earned him the nickname of "Monk" Lewis. This young author, educated in Germany and saturated with a body of wild Teuton lore unknown to Mrs. Radcliffe, turned to terror in forms more violent than his gentle predecessor had ever dared to think of; and produced as a result a masterpiece of active nightmare whose general Gothic cast is spiced with added stores of ghoulishness.
While some of the masters Lovecraft pays homage to have not aged well, and often strike modern readers as dry and overly wordy, other horror masters such as Arthur Machen, Algernon Blackwood, and Lord Dunsany remain riveting, mysterious, and even lyrical. Lovecraft's discussion thus serves as an introduction to some of the best in early twentieth century horror and, as many of these works are out of copyright, many or even most of these stories are easily available online.
Joshi's annotations complement Lovecraft's text by providing information about dates and contexts, along with many quotes from Lovecraft's letters and other writings. For any reader who wishes to pursue further Lovecraftian studies or follow up on the writers mentioned by Lovecraft in his essay, any book edited by Joshi should prove useful.
This and other Lovecraft works edited by S. T. Joshi can be purchased from Hippocampus Press.
(Cemetery Dance Publications, 2008)
(Guide Dog Books, 2008)
(Hippocampus Press, 2000)