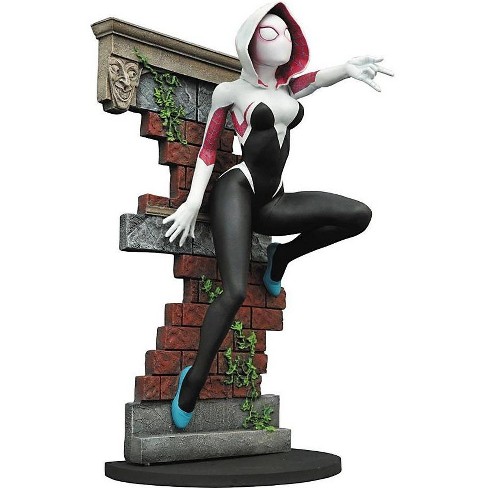 I went shopping for a decent representation of Spider-Gwen after repeated watchings of Spider-Man: Into the Spider-Verse while I had my first of two lengthy stays in-hospital for treatment of a staphylococcal infection. She was definitely a highlight of the film — tough, intelligent and a match in every way for the Spider-Man of that universe, Miles Morales.  Surprisingly there were very few available then, several years back, though there are many more now. Or rather there were lots sans her hood showing the face of Gwen Stacy.
The statue itself as sculpted by Alejandro Pereira comes in two parts as the outstretched arm is seperate and slots in reasonably well. It's not a tall statue being just nine inches from its circular base to the top of Spider-Gwen's cowl. It looks more substantial than it is as the plastic used is rather lightweight. That said, it looks great with all colors bright with no bleed at all. Spider-Gwen Herself is spot-on looking as she's does in the various series and on the film. The wall she's posed on is an appropriate piece of a NYC brown stone with a realistic growth of ivy and the grinning gargoyle head to the right of her adds a nice touch.
It was reasonably price at forty dollars and is available from a lot of online vendor such as Bbig Bad Toys which is where I purchased mine. Though checking online just now, I see it's gone up substantially in price, now going for over a hundred dollars. Such is the world of Marvel and DC collectibles alas.
(Diamond Select Types, 2017)