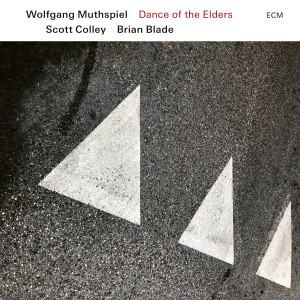 Austrian guitarist Wolfgang Muthspiel returns with the same trio that recorded the critically acclaimed Angular Blues, for another outing that seamlessly blends folk, classical and jazz. Drawing on the quieter aspects of the repertoires of bassist Scott Colley and drummer Brian Blade, Dance of the Elders is atmospheric, textured, sometimes playful and always finely nuanced.
The table is set with the opening track "Prelude," which showcases the three flavors at play throughout the album. This languid, episodic piece opens with an improvised, classical mood setter that progresses into some experimental trio interactions, and winds up in a prog-folk jazz mood complete with guitar looping. Muthspiel has mixed in some acoustic guitar pieces on his last few albums but this time out they're the majority of the tracks. He's no diletante at classical guitar, either. He studied both classical and jazz guitar at the Academy of Music and Performing Arts in Graz, and won several competitions before moving to the U.S. in 1986 to study at the New England Conservatory. At the jazz-centric Berklee School of Music in Boston, he met Gary Burton, who invited him to join his quintet. While based in New York in the late '90s to the early 2000s he played with many notable artists there.
So it's no coincidence that his very classical playing comes off as quite authentic on the second track "Prelude To Bach," a spontaneous studio improvisation with Colley and Blade. Muthspiel wraps up that piece with a solo guitar rendition of Bach's chorale "O Sacred Head, Now Wounded," a totally unrehearsed bit that he played as the spirit moved him, so to speak. That stately piece is a nice contrast to but also something of a companion piece to the title track which comes next. Still on acoustic guitar, Muthspiel plays some serious counterpoint with Colley in an exploration of rich textures and harmonies, Blade subtly commenting and pushing things forward throughout.
The most lovely melody (aside from the closing track) comes on another acoustic number dubbed simply "Folksong," which effortlessly flows from classical chording to jazzy improv to the lilting, sunny, folksy melody and back again. The penultimate track "Cantus Bradus" was inspired by pianist Brad Mehldau, who was a member of the quintet on Rising Grace (2016) and Where The River Goes (2018). It's a meter-shifting workout for the rhythm section, as Muthspiel shifts between classical arpeggios and bop improv lines, all the more interesting for being on acoustic.
By the time Wolfgang straps on the electric again it's been a while since the opener. His cool, classic jazz guitar tone is always welcome, never more than in his tricky improvisations on Kurt Weill's "Liebeslied" at track four. Colley takes a beautiful, melodic solo on this lightly swinging bop. The session wraps in fine form with Joni Mitchell's gorgeous "Amelia." The somewhat deep cut from her first dip into experimental jazz featured bassist Jaco Pastorius, a move that came partly out of Mitchell's frustration with the limitations of rock bassists. All that to say this one is a special back and forth between Muthspiel and Colley, who does some beautiful work here.
Nothing flashy on Dance of the Elders, just three journeymen doing what they do best. Which is superb, actually. As usual, a Wolfgang Muthspiel project is balm for the soul while never falling into cliché or formula or anything "smooth." Don't sleep on this one.
(ECM, 2023)