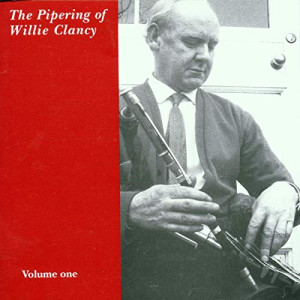 Tim Hoke wrote this review.
I was a little intimidated when a package of seven bagpipe CDs arrived at my house. Now, I love bagpipes in all forms as much as anyone who doesn't actually play them can, but a stack that size is a powerful amount of droning. I took the plunge, turning my house into Drone Central for a while.
The recordings of Willie Clancy are a delight to hear. His uilleann pipes roar on the fast tunes and wail on the slow ones. He uses drones on all tracks, giving his sound a presence that is often lacking in modern pipers, who tend to use the drones more as effects. He does some interesting regulator work on the slow air "Casadh an tSugain," demonstrating why the uilleann pipes were once nicknamed "the Irish organ." On the second volume, Clancy is joined on some tracks by Sean Reid, who plays the regulators of Clancy's pipes. Expecting some complex harmonic regulator work, I was disappointed to hear some simple, rhythmic, but overly busy chordal thumping. The tracks with Reid are further marred by an out-of-tune regulator. Clancy sounds better on his own, producing a full sound with the various pieces of his pipe set. Clancy was also a terrific whistle player, and there is one track on each volume showcasing his ornate yet driving tin whistle.
Brian McNamara is not only a piper, but a piping scholar as well. Hailing from Co. Leitrim, McNamara plays in the South Leitrim style, a tradition he has studied extensively. His playing is smooth and relaxed, and the tunes are played evenly,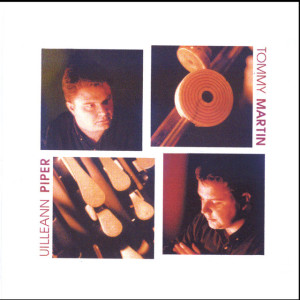 never rushed. There is often a mellow sound, due to McNamara's preference for flat sets; he uses pipes pitched in C on most of the tracks. The accompaniment of guitar and harp support the melody without distracting from it, and McNamara's sister Deirdre blends in some smooth concertina to double the melody line on some cuts. Plus, the liner notes are as detailed as any piping geek could desire.
Kevin Rowsome's disc is subtitled "Five Generations Of Uilleann Piping." This made me start listening with high expectations, which Rowsome indeed lived up to. He plays some of the cleanest piping I've ever heard. He plays the dance tunes well, but the slow tunes are where he sounds the best. "Blind Mary" and "Staker Wallace" are beautifully expressive. As a bonus, the recording ends with six archival tracks of other Rowsomes: Kevin's legendary grandfather Leo and father Leon on uilleann pipes, and uncle Liam playing a couple of slow airs on fiddle. This disc makes me wonder what the Rowsome family's sixth generation is up to.
It's a very tough call to make, but I'd have to say that Tommy Martin's CD is my favorite of the batch. His wonderfully clear high notes on "The Dawn" and
inventive regulator work on "The Flax In Bloom" are captivating. "An Clar Bog Deil" demonstrates wild, lamentive, organ-like use of the regulators. Most of the piping on this disc has an untamed feel to it, and the wildness is also heard in Martin's whistle playing. I was unable to listen without my fingers tapping a bodhran's rhythm.
The final two CDs World Pipe Band Championships Volumes 1 & 2 feature the Great Highland Bagpipes, the instrument that defines "bagpipe" to most people. To be honest, the pipe band is not my favorite vehicle for this instrument. I would rather hear the nuances of a solo piper any day. Still, the bands on these recordings were judged the best in the world for the year 2000. The bands were recorded in competition, allowing the listener to hear the winning musical selections. The piping and drumming are excellent, and the tunes are wonderfully catchy. The drums seem to overbalance the pipes, though. I think this is due to the live recording environment. It's good music, just not my preferred listening. They're available here.
(Claddagh, 1980, 1983)
(TRE, 1999)
(Drumlin, 2000)
(Kelero, 1999)
(KRL, 2000)