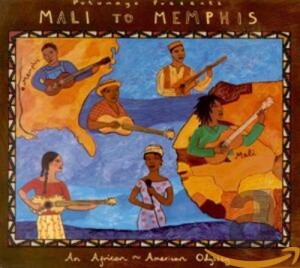 These three discs from world music purveyors Putumayo present a study in how the music of America and Africa have influenced each other.
Mali to Memphis
Well before the deluge of blues-roots discs that accompanied 2003's "Year of the Blues," Putumayo compiled Mali to Memphis, a CD that compares and contrasts African-American blues with West African guitar-based music. Some say both sprang from the same source; I'm not sure that such a case is made by this collection, but it's a pretty good set of music.
Blues songs, mostly acoustic, by the likes of John Lee Hooker, Guy Davis, Eric Bibb, Muddy Waters, Jessie Mae Hemphill and Taj Mahal, are interspersed with tracks from mostly Malian musicians: Amadou and Mariam, Habib Koite, Rokia Traore, Boubacar Traore, Lobi Traore and Baba Djan, the latter from Guinea.
Sometimes the connections between these two related forms is subtle, as in the ringing guitar tones used by both Amadou and Mariam on the catchy "Mon Amour, Ma Cherie" and Hooker's "I'm in the Mood." Sometimes it's more overt, as in Bibb's spiritual message of "Don't Ever Let Nobody Drag Your Spirit Down," which echoes the exhortations of the griot-type singers from Mali. Or in the obvious pride exhibited by Boubacar Traore in "Kar Kar Madison" as well as Muddy Waters' "My Home is in the Delta." And Jessie Mae Hemphill, who in addition to her African roots was also part Cherokee, sings a message understandable in any language, "Standing in My Doorway Crying."
But the most explicit connection, as might be expected, is made by Taj Mahal, with his rendition of "Queen Bee," which uses multicultural lore and imagery as well as instrumentation in this sexy song of love and admiration.
(Putumayo World Music, 1999)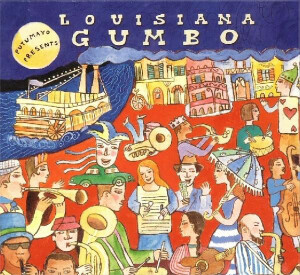 Louisiana Gumbo
Louisiana Gumbo is an apt title for this funky, multiflavored stew of a CD, which in 12 cuts dishes up a feast of R&B based music. There are the zydeco tracks, including the great Clifton Chenier's "Ti Na Na," and Rockin' Dopsie Jr. & the Zydeco Twisters with one of Chenier's signature songs, the gospel-inflected "I'm Coming Home," whose melody you'll recognize as very close to "Bring It On Home To Me." And there's the proto-zydeco of the opening track, Charles Sheffield's "It's Your Voo Doo Working;" it's unbelievable that this wasn't a smash rhythm & blues hit when it was released in 1961!
There's plenty of modern hot R&B as well, all with that signature New Orleans sound of phat funky bass, swelling B-3 organ and growling bari sax: Carol Fran and Clarence Hollimon's "Door Poppin'," Johnny Adams' "It Ain't the Same Thing," and Snooks Eaglin's soulful ballad, "Nine Pound Steel." Swamp pop? Got that covered with Lynn August's smooth "Lead Me On." Hot funky piano instrumentals too, from Eddie Bo ("Piano Roll") and James Booker ("African Gumbo"). The Neville Brothers? Only the groovin', swampy "Voo Doo" from their breakthrough 1973 album Yellow Moon, produced by another Crescent City legend, Daniel Lanois.
A couple of real treats are the offbeat reggae-influenced rocker "Festis Believe in Justice" from the unique talent of Rockie Charles, and the 1952 single "Louisiana," by Percy Mayfield, better known for his songwriting but a superb deep-voiced singer in his own right. There's not a bad track on this collection, which makes a strong case for recognizing New Orleans as a center of R&B every bit as much as Memphis.
(Putumayo World Music, 2000)
The Oliver Mtukudzi Collection: The Tuku Years
Oliver Mtukudzi, the Zimbabwean singer-songwriter, is a huge star in southern Africa, and is on his way to becoming quite well-known in the U.S., thanks in large part to Putumayo. The Tuku Years 10 tracks presents a taste of Tuku to whet the appetite. They include several samplings from his three Putumayo discs, and others from albums previously available only in Africa.
Mtukudzi has a riveting stage presence and it comes across well here. He's a powerful, joyful performer with a deep, rich voice capable of singing in several languages. He is backed by a spirited and talented band, particularly guitarist Philani Dube and bassist Albert Kapondoro, with backing vocalists Mwendi Chibindi, Cecilia Ndholovu and Mary Bell and a driving rhythm section.
Tuku sings in Ndebele and English, entirely in English on the live track "Hear Me Lord," which was covered by Bonnie Raitt in 2002.
With the exception of "Shanda," which is top-heavy with cheesy keyboards, all of these tracks work well. The standout for me is "Ngoromera," with subtle keyboards and excellent guitar work by Dube on a catchy, melodic song that's moving in any language.
This is a classy package, down to the artwork and cover design — a photo of Tuku playing guitar with a look of peaceful concentration on his handsome face. This album should spur listeners to dig more deeply into Mtukudzi's catalog.
(Putumayo World Music, 2003)