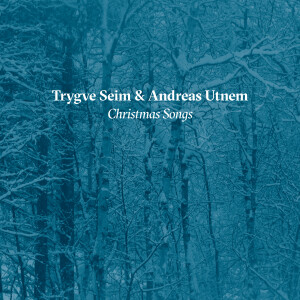 If you're up for a new jazz-inflected holiday album, Trygve Seim and Andreas Utnem's Christmas Songs might just do the trick. Especially if you look fondly upon George Winston's breakthrough album December. Not that it's very much like that multi-platinum 1982 record that brought New Age music to the masses, except in its careful attention to sonic details. And the fact that it's a gentle yet stirring, melodic Christmas album.
Norwegian saxophonist Trygve Seim is a prestigious figure in European jazz, having released 22 albums on the German record label ECM Records, eight of them as a composer and band leader or co-leader. He and pianist and composer Andreas Utnem have been playing together for more than 20 years, since Utnem invited the saxophonist to accompany him at the church Tøyenkirka in Oslo, where he has been the organist since 1996. Christmas Songs is their second album together. Utnem is an in demand session playing, having contributed to more than 50albums, and composes music for theatre and TV in Norway and Sweden.
Sound technician Peer Espen Ursfjord recorded this album at Utnem's home base, the acoustically incredible Tøyenkirka church. Seim plays most of this slate of mostly ancient hymns and carols on soprano saxophone and Utnem on piano, but on at least a couple Seim plays tenor; and on a couple tracks Utnem accompanies him on harmonium. Those are my favorites. The first is the old Basque hymn "The Infant King," also now known as "Sing Lullaby." With Seim on soprano and Utnem playing a light drone on harmonium, the rubato opening section has a very ancient feel. For most of the piece Seim smears his soprano's notes so it sounds rather like a sheep-horn wind instrument, very earthy; and then it's such a calming and soothing moment when Utnem takes over the dainty melody on harmonium.
Seim goes for a similar goat horn effect on the soprano, with Utnem droning on harmonium, on the introductory section of "Silent Night." Does the world need another rendition of "Silent Night"? Well, this one's not like any I've heard, unearthly in some ways, although the players hew faithfully to the melody. It's especially lovely on the second time through when Utnem's harmonium comes to the fore, with Seim providing the droning effect on sax, then they swap again and they play it totally straight, with the melody on soprano and Utnem's very churchlike harmonium accompaniment. Everything that's old is new again.
My favorite track is the darkly jazzy "Mitt Hjerte Alltid Vanker" (My heart always wanders). Utnem plays lovely, stately slightly dark chords with his left hand, over which Seim improvises around the beautiful melody on the tenor. Add a drummer on brushed snares and it could almost be a standard straight ahead ballad, albeit a very somber one. It fades out with Utnem feeling his way toward the melody as Seim vamps deep low notes.
I also really like "Veni, Veni, Emmanuel," which we know in English as "O Come, O Come Emmanuel." It's an 18th century German hymn taken from an ancient Latin antiphons, sung in the week before Christmas. Seim's soprano rises to a stirring climax that I find appropriate for the song's sense of spiritual yearning and impending celebration.
It's a little too easy to mistake some of this music – especially those on which Seim plays soprano – for the kind of rambling New Age holiday music that you hear in department store and hotel lobbies. But a close listener and one familiar with jazz ideas will detect the more serious nature of the improvisations and musical interactions going on. By their nature most of these tunes are quite familiar to most of us, but if you go just a little below the surface of the arrangements on Christmas Songs you'll hear something different. Trygve Seim and Andreas Utnem have given us the gift of an album that asks us to reimagine these old chestnuts along with them.
(Grappa, 2022)
Trygve Seim's website | Facebook | Instagram