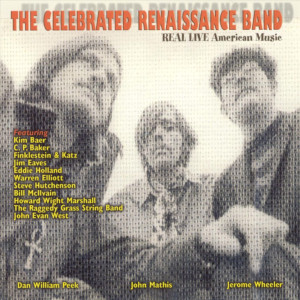 Allied to bluegrass is American old time music. Old time as I have come to know it is derived from a fusion of the blues, minstrel show, gospel, rural Southern folk song, and even jug band music. In my experience it is usually enjoyed by a group of like-minded enthusiasts sitting in a circle having a session or pick as its known in my part of the world. The tunes and rhythms are progressive and inherently similar, making it easy for a stranger to learn and join in. If you were to place a microphone in the centre of the circle and record the session, the music on this album is what you might hear. I know from the sessions I have played in, it can be intoxicating as the session warms up and gets into full swing. So what you have here is a live recording of a session at its best. Three high school students – Jerome Wheeler, Dan Williams, and Dwain Peoples – originally formed the band in 1962. With a few changes in the line up, they enjoyed a modicum of success over the next 14 years before disbanding in 1976.
Of the 14 tracks on the album, ten are recorded live in a 1974 concert at Boston University and two others live in 1967. The only two tracks recorded in a studio are "Texan Rangers" sung by Kim Baer, and "Vibration 2.2" re-mastered from the original vinyl. For the most part they have the energy and feel of live casual recordings, and should be enjoyed as such. A lot of the songs are now old-time standards, like "Blues in the Bottle," "Shady Grove," "The Cuckoo," "Nine Pound Hammer," "Hesitation Blues," "Take a Whiff on Me," and many more. If pressed, I would have to say my favourite track is "Texan Ranger" as it is the nicest version of this song I have heard so far, sung by Kim Baer.
The title of the album says REAL LIVE American Music and this is how it is. I enjoyed the real live sound and I suspect if you were lucky enough to have been at University in the early 70s, you may well have experienced something very similar in a student bar. As such you may want to search out this album for a trip down memory lane! You might say this was American tradition in the making. Imagine in 100 years time what your children's children will make of these recordings.
(Totem Pointe Records, 2003)