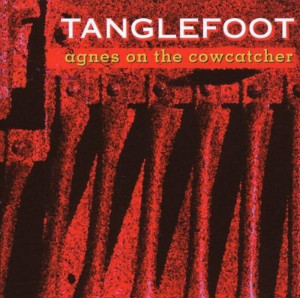 Judith Gennett wrote this review.
Many years ago, this Owen Sound, Ontario, band got together to present history in a more interesting way to students. They suceeded! My own children were transfixed by "Agnes On the Cowcatcher"! It's a song about Agnes, the second wife of John MacDonald, who constructed the railroads that united of Canada's coasts. It echos a TV program documenting this event my kids saw in a Victoria motel.
Unlike Tanglefoot's earlier albums, which feature some traditional songs, Agnes contains only original songs written in quasi-traditional style by various band members. "The Commodore's Compliments" is from The War Of 1812: a sloop carrying the body of General Brock is allowed to pass by the American Oneida, Brig Of War. "The Summer Ghosts" is about ghosts returning from the 1912 wreck of the Mayflower (obviously not the original!). "Willow Dan" is a pretty romance between an isolated farm girl and a water witcher. This song makes a nice pair with a similar song, James Keelaghan's "Sweetgrass Moon." "Crashing Down" documents the landslide that buried much of the town of Frank, Alberta, in 1903. an event that has inspired several song writers. Other songs have more modern themes.
Tanglefoot often sings harmonies in the grand old folk style, with attention to vocal strengths and harmonic arrangement. Some songs even sound like the Kingston Trio, though others do sound more contemporary. The songwriting is strong and informative. The instrumental arrangements are acoustic, with plenty of banjo and some lively fiddle in places, while the piano haunts like one of the men clinging to the floating coffin from the Mayflower.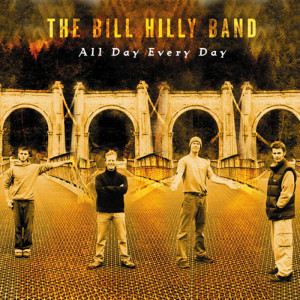 All Day Every Day is the second album by Victoria, B.C.'s Bill Hilly Band, following the self-titled The Bill Hilly Band (2000). Unlike Tanglefoot, The Bills plaything is style, and on this album they continue their charming Pacific mix of CanAmerican traditional, bluegrass, Euroethnic, and cabaret: all the styles currently in style out here. The bluegrass songs run in little groups, and it is here that the lyrics creep in, though without the details of Tanglefoot's epics. For instance, the laid back "Lover Come Back," written by guitarist Chris Frye, is inspired by the hard-work ranches on the Thompson-Nicola Plateau. Conspicuously accompanied by a saw, amongst other instruments, one verse says:
And the wandering traveller
He says the big sky inspires
For the working women and men
It leaves us nothing but tired.
This song is indirectly followed by another old-timey track about the front porches in the area. Before we get there, though, there's a nu-acoustic Brazillian dance song, "Andre de Sapato Novo"! Also in the album's mix is a French-Canadian traditional song and a sophisticated "Begin the Beguine." A Ukranian style tune (or is it Hungarian) is carried on piano, accordion, brilliant singing fiddle, and pseudo-cymbalom. A peppy string-heavy Italian tarantella is set-mated with a peppy eastern polka learnt from a field recording. Victoriaphiles will love the first real song, an exotica-infused bluegrassy track about fin de siecle architect Francis Mawson Rattenbury, who was eventually murdered in London by his wife's lover.
The entire album is held together by the mando-driven acoustic sensibility. And, as in their last album, they've avoided pretentious fusion by gathering these many influences together into a nuevo-Canadian sound, making for a pleasant little second album.
(Borealis, 2002)
(Borealis, 2002)