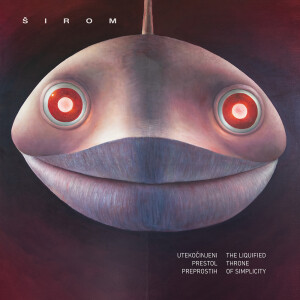 Speaking only for myself, the best way I found of listening to The Liquified Throne of Simplicity was while binge-reading my favorite webcomic Questionable Content. I also found it worked pretty well while reading anything – like right now I'm reading Jennifer Raff's Origin: A Genetic History of the Americas, but I think it'd also work great for certain kinds of SF or fantasy.
Širom is an "imaginary folk" trio from Slovenia, and The Liquified Throne of Simplicity is an utterly transporting album of mostly instrumental music. It's their fourth album since their debut was released in 2016, and their third on Glitterbeat's experimental imprint tak:til. It's also their most expansive, to the point that it's being released on a double LP as well as on CD and streaming.
Širom is Iztok Koren, Ana Kravanja and Samo Kutin. All play a multitude of instruments, quite a few of them percussive in nature: in addition to viola, ocarinas, mizmar (a Turkish shawm), and ribab (a Moroccan single stringed bowed instrument with a tonal range similar to a violin), Ana plays the daf, a large frame drum, balafon and other drums and objects; Iztok plays the guembri (a Gnawan acoustic three-string bass) and banjos plus balafon, tank drum, bass drum, and various objects; and Samo plays hurdy gurdy, acoustic resonators, lyre, lute, ocarina and the three-stringed Slovenian tambura brač as well as chimes, balafon, frame drum and other objects.
One of the features I like best is its utterly organic nature. Listeners might assume that some of the sounds made by this trio are electronic or synthesized, and in fact I did so myself. But everything is done on acoustic instruments, some of them invented and handmade, plus some non-vocal singing by Ana and Samo. And as far as I can tell there's not much or any double-tracking going on, although perhaps some looping.
So, about the way I've been listening to this album. Because four of its five tracks are between 16 and 20 minutes long and they're episodic, I've found it soothing to listen to the opening of a track until I kind of zone out, then direct my attention elsewhere, and dip back in for moments of varying lengths as I become aware of a change in the proceedings.
Take the masterful opening track "Wilted Superstition Engaged in Copulation." (Oh, all of the tracks, like the album itself, are named in this sort of mock-mythic style that reminds me of both Frank Zappa and Howe Gelb.) It opens with a solo on the guembri, shortly joined by a frame drum that sets up a polyrhythmic bass beat, then an eerie melody on … I'm not sure what, maybe a tortured ocarina, which alternates passages with the guembri. At about 3:30 Samo comes in with the hurdy-gurdy, which plays a long portentous passage over the circular rhythm laid down on guembri and daf. And that's just the first five minutes or so. It's droning minimalism at its best, incorporating elements of more kinds of music than I can name.
Samo Kutin does amazing things with that hurdy-gurdy! And when it's layered with some ocarina doing an impression of beep-beep feedback, plus clanging chimes, and a complex rhythmic line on guembri … it's mind-blowing even before the mizmar kicks in, when it becomes a psychedelic stroll through the souk in Mos Eisley, otherworldly sounds emanating from the doorways of various cantinas.
The transitions between sections in these episodic compositions are uniformly great. They're usually subtle but just noticeable enough to pull you back from wherever you were zoning out to.
Some of my favorite moments: The long fade-out on "Wilted Superstition" in which Samo's torture of the hurdy-gurdy wails over the droning of what I think are ribab and bowed guembri; the way the Appalachian banjo plucking on "Grazes, Wrinkles, Drifts into Sleep" is slowly subsumed by an airy flight of African-East Asian tunes on the balafon and improvised viola. This one slowly crescendos to a chaotic noise-fest. The accompanying video definitely does it justice.
"A Bluish Flickering" breaks the pattern somewhat, starting with percussion and rising to a dense miasma of sound before abruptly shifting to a languidly plucked banjo coda. "Prods the Fire with a Bone, Rolls over with a Snake" (my favorite title!) has an intricate melody introduced by Ana with wordless vocalizations, then taken over by the banjo as she goes from plucked to bowed viola (or ribab, hard to tell). This one is very challenging, the players running with that difficult melodic line, deconstructing and rebuilding it, blurring modern classical ideas with post-rock techniques and art-song archness. Fortunately after that intense piece, the final track "I Unveil a Peppercorn to See It Vanish" is a fun short bit of denoument, Ana's Yoko Ono inspired vocals playing off the simple and playful plucking of banjo and tambura.
As the one-sheet from Glitterbeat points out, Slovenia has long been a crossroads of Eastern Europe. Its harsh and rich landscape of forested mountains and rocky peaks has been alternately swallowed up by Romans, Byzantines, Austro-Hungarians and Soviet-aligned Yugoslavia. Širom incorporates these feelings and ideas that arise from this history and runs with them, offering up mesmerizing sounds and inchoate dreamscapes of indeterminate origin. The Liquified Throne of Simplicity is music to lose and find yourself in.
(tak:til, 2022)